One of the most beautiful and biodiverse places in the world, Costa Rica is a country meant to explore! It has endless coastlines filled with stunning beaches, rainforests, mountains, and not to mention the numerous volcanoes sprawling across the landscape.
While there are so many incredible things to do in Costa Rica, it's hard to find anything that beats a vacation spent by the beach. Just imagine waking up to the gentle crash of the waves and having all the time in the world to go swimming in the crystal-clear ocean or trying your luck on a surfboard. One of my favorite ways to do just that is by staying at a beachfront resort.
At beachfront resorts, you literally have a front-row seat to the natural beauty of Costa Rica and not to mention some spectacular sunsets! But with so many choices, deciding on which beachfront resort to stay at can be the most stressful part of your vacation. Don't worry though, after living and traveling across Costa Rica, I have some recommendations to help narrow it down.
So get ready to plan your dream beach vacation in Costa Rica as we've handpicked the top 11 beachfront resorts in the country for you to check out. They range from boutique retreats to top all-inclusive resorts, so there's something for every traveler and budget.
Now all you'll need to do is pick one and pack a beach bag!
Where are the Best Beachfront Resorts in Costa Rica?
Costa Rica is teeming with amazing beaches, so there are beachfront resorts all over the country! I've found that beaches everywhere are beautiful, so as you're narrowing it down, choose a resort with the amenities you're looking for and a price that fits your travel budget.
Of course, when selecting where to stay in Costa Rica you should also consider the location of the resort in terms of distance to an international airport as well as other things to do nearby.
There are resorts located in the majestic Papagayo Peninsula on the northwestern side of the country, a couple of resorts lie close to the popular beach town of Coco which is a family-friendly destination offering tons of activities to do and attractions to visit.
If getting away from it all sounds like paradise, we've found a few beachfront resorts set in secluded areas and one that even has you staying in a treehouse hotel! If you're planning to see more of the must-visit places in Costa Rica, some of these resorts are only 30 minutes to an hour from an international airport – making it easy to start or end your vacation nearby.
There are options for everyone, I think the hardest part might be just picking one of these amazing resorts!
The BEST Beachfront Resorts in Costa Rica
1. The Westin Resort and Spa
Location: The towns of Huacas and Brasilito are just a 10-minute drive from the resort, while the closest airport in Liberia is an hour away by car
Amenities: 9 restaurants, 2 outdoor pools, gym, spa, tennis courts, free parking, and Wi-Fi
Price range: The standard rate for double occupancy ranges from $499-$1,019 USD per night
Sitting on Playa Conchal on Costa Rica's marvelous North Pacific Coast is the all-inclusive beachfront Westin Resort and Spa. This is one of the most beautiful areas of Costa Rica with sunshine galore, stunning beaches, and lots of great spots for surfing. The property itself is bordered on both sides by forests and unspoiled beaches.
Staying at this beachfront property put you right near one of the most unique beaches in the country. Playa Conchal's sand is actually made up of millions of tiny pieces of white shells, most of which are at the eastern end of the beach. You can swim or snorkel here during the day in the calm and crystal-clear waters. I'm always up for a little stargazing too and this beach is a great spot to look at stars once the sun goes down.
The resort also supplies equipment for fishing, kayaking, and diving, so there are plenty of activities to take in. If you're a golfer or traveling with someone who loves to golf, Conchal Golf Course is right next to the property!
At The Westin Resort and Spa, there are plenty of amenities that are a huge advantage to staying at a luxury beachfront resort like this one. You can head to the gym, tennis court, or play table games. There are also two lagoon-style pools and a kids' club for the younger guests. But if you wish to release built-up stress and tension from your body, head to the spa for a massage, facial, or salon services.
For food and drinks, this all-inclusive beachfront property has a selection of restaurants serving continental, Latin American, Asian, and Italian dishes, plus several bars offering soft drinks, bottled juices, and beers. There's 24-hour room service also available, so you can order in – perfect if you've just spent sunset on the beach!
In terms of accommodation, a total of 406 spacious rooms, suites, and villas are on offer at the luxury resort. Each unit is equipped with many conveniences including air conditioning, a seating area with a cable TV, a minibar stocked with refreshments, and a private bathroom. Selected units feature balconies and terraces perfect for soaking up the sun and taking in the fantastic views of Costa Rica.
Book your own luxury getaway at The Westin Resort and Spa here!
2. Best Western Jaco Beach All-Inclusive Resort
Location: Downtown Jaco is only a 4-minute car ride from the hotel, while the closest airport in San Jose, is around 1.5 hours away.
Amenities: 2 outdoor pools, restaurant, snack bar, bar, tennis and volleyball courts, children's playground, and free Wi-Fi and private parking
Price range: The rate ranges from $192-$248 USD per night
Best Western Jaco Beach is a 4-star resort in Costa Rica sitting on Jaco Beach in the town of the same name. This is one of the top beaches in the entire country, so when it comes to beachfront resorts, it's hard to beat!
Jaco is actually the nearest seaside destination to the country's capital city of San Jose, so it's a great place to base yourself to spend time in Costa Rica. As one of the most developed beach towns in the country, Jaco is jam-packed with things to do! From exploring Carara National Park, soaking up the sun at the beach, or riding through the jungle on an ATV there are plenty of amazing tours in Jaco to choose from!
Jaco is also famous for its party atmosphere and adult-only activities, but it has become a more kid-friendly vacation spot in recent years. The nightlife here is great and if you want to party, this is the spot! The town also includes tons of boutique and souvenir shops and some really great restaurants.
Jaco is one of the best places to go surfing in Costa Rica! If you're not a pro, don't worry. The waves around Jaco Beach are strong and consistent but not too powerful. As a beginner myself, I really liked the soft waves and huge beach so I could practice without a big crowd. (This surf lesson is a good option for beginners!).
After busy days exploring Jaco, rooms at this beachfront resort are great to come back to. They are equipped with air conditioning, a TV with free movie channels, and an en suite bathroom with a bathtub. Each unit offers either garden views or pool views, and selected ones come with a balcony.
As an all-inclusive beachfront resort in Costa Rica, you'll not only be close to the beach, but the Best Western Jaco Beach also offers unlimited food at their onsite restaurant. It serves buffet-style cuisine all day, and unlimited drinks at its two bars that have an extensive list of non-alcoholic and alcoholic beverages.
In addition, the property provides a front desk and luggage assistance 24 hours per day. There are also free international calls to the United States and Canada, so you can talk to family back home. I have family in Canada, so this is a really nice perk for me! There are also three event venues and several recreational facilities like two outdoor pools, tennis and volleyball courts, a game room, and a children's playground.
Book your getaway at the Best Western Jaco Beach easily online.
Related Read: If you need more hotel options, there are lots of places to stay in Jaco to extend your vacation!
3. Andaz Costa Rica Resort at Peninsula Papagayo
Location: 30 minutes away from the towns of Comunidad and Guardia as well as to the nearest airport, Guanacaste Airport, in Liberia
Amenities: 4 swimming pools, 3 restaurants, bar, spa, fitness center, tennis court, zipline, complimentary Wi-Fi, and private parking
Price range: Standard price for double occupancy ranges from $770-$3,150 USD per night
Andaz Costa Rica Resort is another luxury beachfront resort in Costa Rica that is absolutely stunning! Set in a jungle in Papagayo Peninsula, the property welcomes travelers and is pet-friendly too. This is one of only a few beachfront resorts on the peninsula, so it's an exclusive place to stay and is perfect for a beach getaway.
Papagayo Peninsula is an area spanning 1,400 acres and showcases the magnificent biodiversity of this country. Surrounding the peninsula is a UNESCO World Heritage Site called Area de Conservacion Guanacaste. This 400,000-acre protected area hosts a wide range of species.
For beach lovers (like me!), there are three beaches close to the resort, with the nearest only a two-minute walk away. Water sports like snorkeling, paddleboarding, and kayaking are great choices and the best part is that as a guest here, you can use all this equipment for free!
Other activities and tours offered in the area include some of the best things to do in Costa Rica from walking tours, bike tours, ziplining, river floating, and visiting Arenal Volcano National Park or Barra Honda National Park.
I definitely don't think you can get bored here – even if you don't leave the resort! Here you can swim in one of the four pools, work out in the gym, or go ziplining between the trees and canopies. Kids can also have fun at the Cambi Kids' Club, while teens can join exclusive excursions with Camp Jaguar.
For relaxation, they have a spa offering massages, body treatments, manicures, pedicures, and Reiki. And to fill your tummy, the resort houses three restaurants that serve farm-to-table dishes along with vegetarian and vegan choices. There's also a bar with a range of soft drinks, mocktails, wine, and more.
Andaz Costa Rica Resort features a total of 131 rooms and 21 suites, which are all set on a hillside and face Culebra Bay. Each unit has an outdoor terrace, a minibar with free snacks and non-alcoholic beverages, and a large private bathroom with complimentary toiletries. In addition, some suites come with a separate sitting area, a separate work area, and a dining area, while others have a kitchen or a coffee maker, and/or a kettle.
Book your stay at the beautiful Andaz Costa Rica Resort by reserving a room here.
4. Secrets Papagayo All Inclusive
Location: About 15 minutes from the towns of Comunidad and Guardia and less than 30 minutes from the closest airport in Liberia
Amenities: 5 bars, 5 restaurants, 2 cafes, 2 swimming pools, spa, fitness center, free Wi-Fi, and private parking
Price range: Rate for double occupancy ranges from $594-$1,864 USD per night
Overlooking Culebra Bay, Secrets Papagayo is a beachfront resort in Costa Rica that is exclusively for adults. Set on a hill on the quiet Arenillas Beach, I think this resort is perfect for wedding ceremonies, a Costa Rican honeymoon, anniversaries, and other romantic getaways.
Arenillas Beach is a short coastline with gray sand and turquoise water. The shore is lined with plenty of trees giving natural shade. The property is situated in a tranquil place with lots of trees and vegetation and only a couple of towns nearby.
With the resort sitting right on a beach, exciting activities like fishing, scuba diving, and swimming are just steps away. That's what I love about beachfront properties like this one – you never have to go far to have a beach day!
Day and night entertainment is also offered at Secrets Papagayo including musical performances, karaoke, evening shows, and weekly cocktail parties. There are also two swimming pools, a well-equipped fitness center, and a spa.
For meals, this all-inclusive resort has five restaurants, five bars, and two cafes. Grilled dishes, Pan-Asian cuisine, and international cuisine are just some of the options. Its wide selection of food and drinks makes Secrets Papagayo one of the best beachfront resorts in Costa Rica!
Regarding accommodation, the resort has a total of 202 guest rooms and suites, each with a private balcony or terrace offering views of lush tropical gardens or the Culebra Bay and a private bathroom with a shower. All units also have a fully stocked minibar, a smart TV, a coffee maker, an in-room safe, and complimentary Wi-Fi.
If your budget allows, you can upgrade your accommodation to a Preferred Club suite, which offers more conveniences including lounge access, daily continental breakfast, and an upgraded minibar.
Check availability and book your stay at Secrets Papagayo online!
5. Tulemar Resort
Location: Only a few minutes away from the town center of Manuel Antonio and about a three-hour drive from the closest airport in San Jose.
Amenities: 4 swimming pools, 2 restaurants, beach bar, private beach area, free private parking, Wi-Fi, gift shop
Price range: Rates range from $290-$1,093 USD per night
Hidden away in a lush rainforest overlooking Manuel Antonio's coastline, Tulemar Resort is the only hotel licensed to operate in the world-renowned Tulemar Gardens. Wildlife thrives in the area, with sloths, iguanas, white-nosed coati, basilisks, and three of Costa Rica's four native monkey species residing here.
What's amazing about this property is that it also has a private beach area! This is actually the only exclusive sandy beach in the region, so you'll definitely feel like a VIP while relaxing on the sand. On the beach, sun loungers and umbrellas are set up and beach towels, food and drink services, and beach attendants are available.
Beachfront properties like this one are also a great choice if you're looking to get out on the water! Just grab one of the kayaks or boogie boards available and you're all set.
This resort puts you so close to great activities in Manuel Antonio town and the incredible Manuel Antonio National Park. There are beautiful walking trails, lots of wildlife (including the adorable squirrel monkeys!), and stunning beaches to enjoy. I've found this is also one of the best places to spot sloths in Costa Rica – there's even a trail called "The Sloth Trail" because it's so common to see them along here.
It's also worth noting that Tulemar Resort features four swimming pools and two restaurants, one serving Costa Rican cuisine and the other Italian cuisine. They also have a beach bar, a gift shop, and a private parking area that's free of charge.
The resort offers a variety of services as well, such as airport shuttle service (we really like shuttles in Costa Rica to get around!), transportation (for air or land), and car rental service. They can also provide spa services for both adults and kids.
Tulemar Resort offers standard rooms, bungalows, casas, private houses, and vacation rentals that can sleep four to 10 guests. There's one vacation rental ideal for up to 26 people if you're traveling with a large group! Rates range from $290-$1,093 USD per night.
Each type of accommodation is designed differently, but they have a few common amenities including Wi-Fi, a cable TV, air conditioning, a room safe, and a private bathroom with a bath or shower.
Most units feature a living area and a terrace. Some have a kitchenette while others have a fully-equipped kitchen or only a coffee maker and/or mini-fridge. Selected ones offer ocean and jungle views.
Book your stay at Tulemar Resort online here!
Related Read: See even more amazing creatures that live in Costa Rica with a visit to a wildlife rescue center. I even saw a baby sloth!
6. Hotel Nantipa
Location: In the town of Santa Teresa, the closest airport in Liberia is more than three hours away by car.
Amenities: Swimming pool, restaurant, bar, complimentary Wi-Fi, and private parking
Price range: The price for double occupancy ranges from $385-$1,600 USD per night
On the pristine beach of Santa Teresa town sits a boutique retreat called Hotel Nantipa. This beachfront resort in Costa Rica faces the Pacific Ocean, so some of the accommodations even offer those ocean views we all love.
The small coastal town where the resort is located stretches along Santa Teresa Beach which is a well-known surf beach with great waves all year round. While surfing is top-notch, swimming can be more of a challenge, so many people opt to cool off in the tide pools during low tide.
Santa Teresa Beach is also an ideal spot for watching a breathtaking sunset and getting a taste of the local cuisine since the beach has its own section of restaurants, alongside many shops and hotels.
Aside from surfing, fishing, snorkeling, and diving are other popular activities you can do on the water. You can also go horseback riding, cycling, and hiking in Cabo Blanco National Park or Curu Reserve. I also highly recommend a trip to the remote Tortuga Island and paying a visit to the incredible Montezuma Waterfalls.
After a day full of fun, treat yourself to a delectable meal at Hotel Nantipa's restaurant, which serves international dishes with traditional Tico recipes. You can also order cocktails made up of Costa Rica's tropical fruits and liqueurs at the onsite bar. Or perhaps share a relaxing massage with your significant other or join a yoga or meditation class on the beach.
This boutique hotel consists of 19 suites and bungalows and 2 three-bedroom beachfront villas. The units sleep two to more than four people. The standard amenities in each accommodation include air conditioning, hammocks, a coffee maker, a flat-screen cable TV, a small dining table and chairs, a minibar, and a private bathroom with a shower and free toiletries.
The units also have unique comforts, the villas, for instance, have three guest rooms and bathrooms with dual sinks and separate toilets. Meanwhile, suites have a large living room with two twin daybeds, while bungalows feature a private plunge pool and double indoor/outdoor shower.
Reserve your suite at the beachfront Hotel Nantipa online here!
7. Planet Hollywood Costa Rica
Location: The beach resort is close to the towns of Comunidad and Guardia, and the nearest airport in Liberia is less than 40 minutes away
Amenities: 7 restaurants, 5 bars, 2 swimming pools, fitness center, spa and wellness center, volleyball court, complimentary Wi-Fi, and private parking
Price range: Rate for double occupancy ranges from $336-$777 USD per night
A 5-star all-inclusive resort on the Papagayo Peninsula, Planet Hollywood Costa Rica is set on a hillside near the coast, providing panoramic views of Culebra Bay. The property is surrounded by towering trees and makes the perfect location for viewing brilliant sunsets.
Spanning 1,400 acres, Papagayo Gulf is a place where nature dominates. This unspoiled area comprises 11 miles (18 km) of coastlines, seven sandy beaches, and one of the last remaining tropical dry forests in the world.
The activities in the area center around the beach and ocean (of course!) and include kayaking, stand-up paddleboarding, hydro biking, scuba diving, and Hobie Cat sailing. Other than these, horseback riding, walking inside an active volcano crater, and whitewater rafting down the Tenorio River are other activities you can do.
There's also plenty you can do without even leaving the resort! I love the two swimming pools here and there's also a hot tub, and a volleyball court. If you're looking to get a workout in, check out the modern fitness center where you can join indoor and outdoor classes led by professional and certified instructors. If relaxation is calling your name, head to the spa for one of a variety of wellness treatments.
You can also spend time with your friends and loved ones around the rooftop fire pit or drop by the resort's store selling branded merchandise, souvenirs, and travel essentials. Kids can enjoy themselves at the kids' club and the Splash Kids Zone.
Moreover, this all-inclusive resort in Costa Rica features seven restaurants that specialize in various cuisines like American, Italian, Mexican, Korean, and Japanese. There are five bars, too, which offer a selection of local and international brands.
Along with the amenities, there are a total of 292 suites at Planet Hollywood Costa Rica. Each unit has plush bathrobes and slippers, a coffee maker, a satellite TV, a minibar stocked with drinks and snacks, high-speed Wi-Fi, and many more.
To take your experience to the next level, I recommend upgrading to the Star Class treatment for the real VIP experience. You'll get a personal agent who will handle all arrangements and reservations, preferential pricing on spa treatments and services, and an exclusive beach area (yes, please!) with a dedicated bar and waitperson service, just to name a few.
Book your getaway to Planet Hollywood Costa Rica by reserving online here!
8. Four Seasons Resort Costa Rica
Location: By car, the resort is 40 minutes away from both the towns of Comunidad and Guardia and less than an hour from the closest airport, Liberia's Guanacaste Airport
Amenities: 5 tennis courts, 4 restaurants, 4 swimming pools, 3 pickleball courts, 2 private beach areas, golf course, fitness center, spa, complimentary Wi-Fi, and private parking
Price range: Ranges from $1,035-$31,635 USD per night
Four Seasons Resort is another one of the few beachfront resorts on Costa Rica's Papagayo Peninsula. This peninsula on the northwestern side of the country offers a unique closeness to nature and amazing adventures for everybody from couples to families. This huge area includes tropical forests and of course, miles of unspoiled beaches to enjoy.
Four Seasons Resort is conveniently located between two beaches – one facing the Gulf of Papagayo while the other fronts Culebra Bay – making it a top beachfront resort in Costa Rica! Thanks to its position on the peninsula, the resort has various water sports to offer including surfing, snorkeling, scuba diving, fishing, catamaran sailing, and boating.
I also recommend taking a tour of the Papagayo Peninsula if you can and to nearby areas including top national parks in Costa Rica like Palo Verde National Park and Arenal Volcano National Park.
While there's plenty to see and do in the area, Four Seasons Resort offers various activities to guests within the property – especially if you're into sports! They have five pro-level tennis courts, three pickleball courts, and an 18-hole, par-72 golf course overlooking Bahia de Culebra. There are also four swimming pools and a Tuanis Teen Center where teenagers will find a flat-screen TV, a DVD player, video games, computers, iPod docking stations, and free internet.
Of course, that's not all! One of the best parts of an all-inclusive beachfront resort is the food and the Four Seasons delivers on that too. You can find an array of food choices at the four onsite restaurants. They serve Italian cuisine, local food, salads, vegetarian dishes, seafood, and steaks. A children's menu is available as well as a sushi bar.
When you book a stay at Four Seasons Resort, there are 15 private residences, four suites, and three guest rooms, for a total of 22 units to choose from. All of these come with rattan and bamboo furnishing, air conditioning, a flat-screen TV, a seating area, a dining area, a terrace with views of the ocean or tropical forest, and a private bathroom with bathtub/shower, a hairdryer, and complimentary toiletries.
Some accommodations also have unique conveniences, like for example, most private residences have a swimming pool or a plunge pool, while suites boast more seclusion since they are set on a hillside.
Because of the limited villas available, book your suite at the Four Seasons Resort online so you don't miss out!
Related Read: If you're planning to explore the country by driving yourself, these are our top tips before renting a car in Costa Rica!
9. Bahia Pez Vela Resort
Location: The resort is in the town of Ocotal and is 15 minutes away from Playas del Coco and 45 minutes from the airport in Liberia
Amenities: 2 swimming pools, restaurant, private beach area, free Wi-Fi
Price range: The rate for double occupancy ranges from $135-$665 USD per night
Bahia Pez Vela Resort is a luxury resort on its own private black-sand beach. This secluded resort is in a small town called Ocotal where only small hotels, condos, and private homes are built. I love this property for its exclusive feel and the chance to get away from all the hustle and bustle.
The area bordering the resort on the eastern side is dominated by lush trees and vegetation, so there aren't many establishments around. But the main draw here is the beach!
The sand on the resort's private beach and on the town's Ocotal Beach is among the blackest in Costa Rica. The sand is actually tiny pieces of volcanic rocks if you pick it up and look closely. But the beach isn't only composed of black sand, as white sand lies under it. It's actually really beautiful.
I've found Ocotal's beaches are among the cleanest and quietest in the northwestern part of Costa Rica, making them perfect for relaxing. These beaches are also favorites because of how clear the water is!
Because of Ocotal's location by the water, it's easy to grab gear from the resort including equipment for scuba diving, snorkeling, and jet skiing to enjoy a day of fun. Catamaran trips are also possible in the area – try for a sunset ride if you can, that's my favorite type of cruise!
Playas del Coco is a larger town close to Ocotal and is just a 15-minute drive away. You can find plenty of shops and restaurants on the town's main street.
If you can't get enough of the water, feel free to swim in one of the two outdoor pools at Bahia Pez Vela Resort. And if you need to reduce stress or muscle soreness, you can book a therapeutic massage.
You can then continue your rest in one of the resort's villas. Each villa has views of the ocean, the beach, or the garden, air conditioning, a cable TV, a DVD player, and a private bathroom with complimentary toiletries. The oceanfront and beachfront villas feature a fully-equipped kitchen, while the studio-type villas have a kitchenette.
Additionally, some villas come with free Wi-Fi, a private pool, a terrace, room balconies, and a laundry room. The minimum length of stay at the resort is two nights.
Your stay wouldn't be complete without getting a taste of Costa Rican cuisine. At the resort's onsite restaurant, you can enjoy snacks like tacos, chicken nachos, or spicy Maracuya burgers along with Imperial (Costa Rica's favorite beer), or a special Piña Colada.
The restaurant is open for lunch, dinner, BBQ night, private dinner, and Latin night, and offers room service. If you have time on your hands, you can attend mixology or culinary classes.
Check availability and book your beach getaway at Bahia Pez Vela Resort online!
10. Fiesta Resort All-Inclusive Central Pacific
Location: Downtown El Roble is just a five-minute drive from the resort, while the closest airport in San Jose, lies a little over an hour away by car.
Amenities: 7 bars, 5 swimming pools, 4 restaurants, 2 tennis courts, beach volleyball court, spa, fitness center, miniature golf, kids' and teens' clubs, complimentary Wi-Fi, and parking
Price range: The average rate per night for double occupancy starts at $188 USD
On Costa Rica's Central Pacific Coast is the gorgeous beachfront property of Fiesta Resort. It's located in the town of El Roble, which is just a short drive (about 20 minutes) from the port city of Puntarenas.
El Roble's beaches are famous for their beautiful volcanic sand and crystal-clear waters, so staying nearby at this resort is a fantastic way to see them! Like most coastal towns, El Roble is one of the best places in Costa Rica for kayaking and other water sports like fishing and surfing as well as for watching beautiful sunsets. You can also play beach volleyball, tennis, or golf at the resort. If you're here as a family, kids and teenagers can have fun at the kids' and teens' clubs.
While it's a small town, I find El Roble is a great place for a stopover or an excellent base for seeing popular attractions in the province of Puntarenas, which is the biggest in the country and one of the most visited.
The city of Puntarenas is located nearby on a sliver of land and beach that stretches into the Gulf of Nicoya, directly across from the Nicoya Peninsula. One of my favorite things to do in the city is stroll along Paseo de los Turistas (Tourists Boulevard) to see all the art galleries, markets, aquariums, bars, and restaurants.
You can also arrange trips to Carara National Park, Palo Verde National Park (it's only 10km/6 miles away), and the magical Monteverde Cloud Forest, which is less than a two-hour drive from the resort. If you're traveling with a group of friends or family, then a private Monteverde Cloud Forest tour is a great way to explore the reserve. On this tour, you'll have a chance to see quetzals, one of Costa Rica's most iconic birds, as well as howler monkeys, sloths, and more!
After a busy day, there's nothing quite like some rest and relaxation, right? Luckily the Fiesta Resort also has a spa, where you can treat yourself to massages, body treatments, body wraps, facials, nail services, and more.
If you need to hold a wedding, a meeting, or any other event or occasion, you can also make use of the resort's five conference rooms that have state-of-the-art audiovisual equipment.
And as an all-inclusive beachfront resort in Costa Rica, the property has four restaurants and seven bars offering various options for food and drinks. They serve local and international meals including Latin American dishes and unlimited alcoholic beverages, soft drinks, juices, cocktails, and an extensive selection of wine.
By the end of the day, get some sleep in one of their well-appointed accommodations. Fiesta Resort has a total of 408 guest rooms and suites, each featuring free Wi-Fi, air conditioning, dark wooden furniture, a cable TV, a coffee maker, and a private balcony with ocean, pool, or garden views. The private bathrooms are complete with eco-friendly bath products and stand-up showers.
Some units have a living room with a sofa bed and/or a minibar, while others come with a Jacuzzi or bathtub, a fully-equipped kitchen, and a dining area.
Book a stay at Fiesta Resort online now to secure your room!
Related Read: If you'll be spending some time in San Jose before or after your beach holiday, check out the best hotels near the airport and popular day trips from the city!
11. Riu Palace Costa Rica – All Inclusive
Location: The all-inclusive resort is situated 30 minutes from the town of Coco, and the nearest airport to it is Guanacaste Airport in Liberia, which is less than an hour away by car
Amenities: 5 bars, 4 swimming pools, 4 restaurants, hot tub, fitness center, kids' club, water park, wellness center, free Wi-Fi, and private parking
Price range: From $1,040-$2,058 USD for 3 nights
Riu Palace is the final beachfront resort on our list and this property is stunning! It's a 5-star all-inclusive resort situated in a secluded area in Guanacaste province just a two-minute walk from the beautiful Matapalo Beach. You'll feel like you're in paradise from the moment you arrive!
Guanacaste is less tropical, lush, and humid than the rest of Costa Rica. In fact, its plains and dry forests can be compared to more of an African savanna landscape. However, this means there isn't the usual "rainy season" so you're more likely to have sunshine and great weather – meaning more beach days!
Aside from its picturesque golden sand beaches, this area is also known for its cowboy culture and long summer days. It's also a popular destination for plenty of bucket list worthy activities like windsurfing, ziplining, scuba diving, horseback riding, sailing, and snorkeling. The resort has equipment you can use and you can even learn to scuba dive by taking lessons in the resort's pool! How cool is that?
You can enjoy yourself within the resort, too, thanks to the many recreational amenities onsite including a tennis court, a volleyball court, and an area for table tennis. They also have something for young guests including a children's playground, a kids' club, and a water park.
You can also expect to see four outdoor swimming pools, a hot tub/Jacuzzi, a fitness center, and a shared lounge. There's even a 24-hour front desk with staff who are always ready to lend a helping hand and four restaurants with chefs who prepare a variety of dishes, from classic to the most exotic. The restaurants are open for snacks and the three important meals of the day.
This beachfront resort in Costa Rica also houses a wellness center where you can enjoy a relaxing massage or a body wrap, body waxing, facial treatments, and more. And if your stay is business-related, there are five conference rooms, modern and fully equipped for meetings or events.
Along with the many amenities, Riu Palace Costa Rica has suites complete with a lounge area with a sofa and a private bathroom with a shower and a hydromassage bathtub. Each accommodation is also equipped with air conditioning, a wardrobe, a coffee maker, a minibar, a beverage dispenser, a safe box, and a flat-screen TV with satellite channels.
Some suites include a Jacuzzi and/or a balcony or terrace with incredible views of the sea or the hotel gardens. Take note that you'll need to book a minimum of three nights to stay here. Although I definitely would want to stay longer!
Book the all-inclusive Riu Palace online here for a dreamy beach holiday!
Getting Around Costa Rica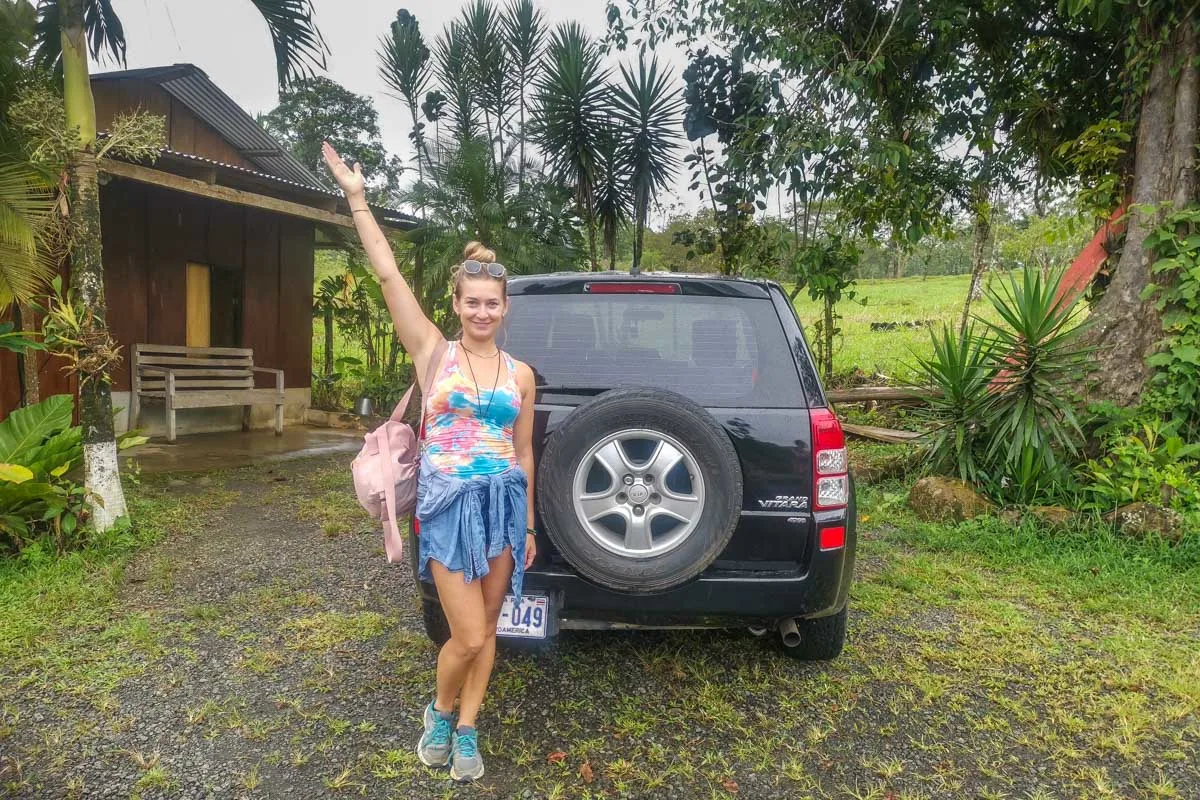 How you choose to get around Costa Rica is one of the biggest decisions you'll make when planning your holiday here! How you do it depends on your budget, travel style, and comfort level.
Renting a Car
Without a doubt, the number one way to explore Costa Rica is in a rental car. We book rental cars on the Discover Cars website as we have had good experiences with them in the past.
One of the things you need to watch for when renting a car in Costa Rica is the mandatory insurance that the government requires you to have. There are a lot of very cheap rentals that don't include this mandatory insurance (TPL) in the original booking price, but there are also ones that do. To avoid additional surprise charges when you pick up your rental car, be sure to rent a car that includes the mandatory insurance when you book.
Thankfully, on Discover Cars it's easy to tell apart the companies that include the mandatory insurance and those that don't. The trick is you can't pick any car on their website. In the picture below, you can see this rental car, with pick up in Jaco, includes the TPL. That means the mandatory insurance is included in the price. Any cover you get above that is extra.
Of course, I still suggest getting the full coverage offered by Discover Cars, which covers you even more.
You can browse cars on Discover Cars here.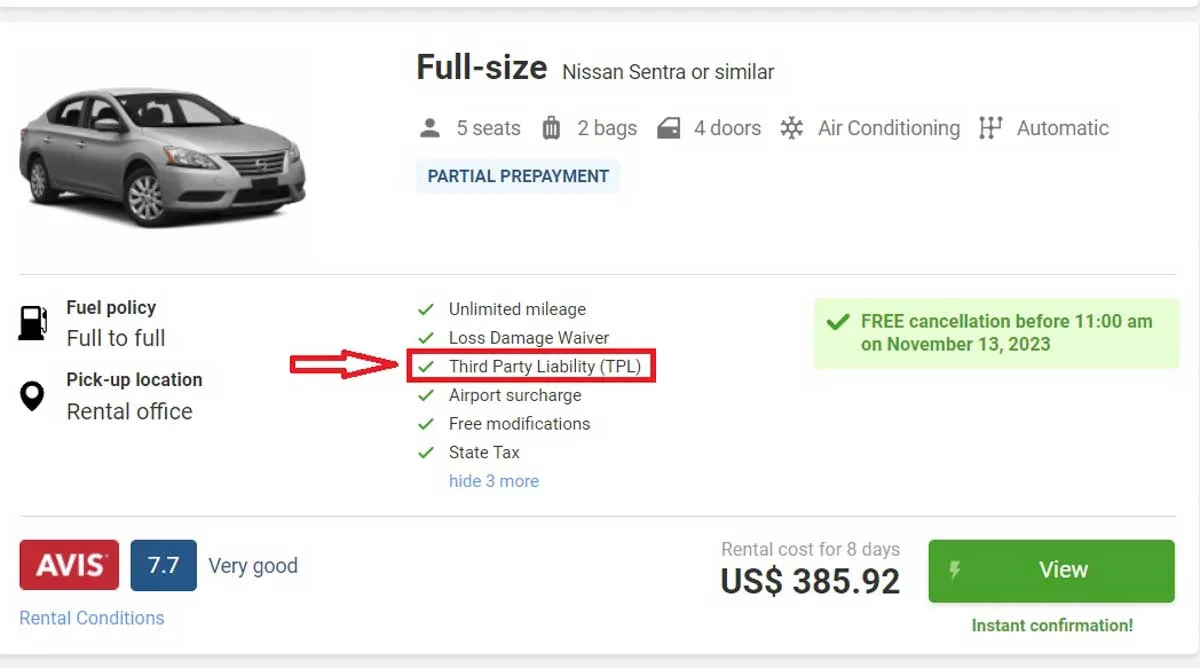 Book Shuttles
If renting a car isn't in your budget, you don't feel comfortable driving in Costa Rica, or you just don't like driving, shuttles are the next best option. There are hundreds of shuttle routes available all over the country, and they are very affordable.
Shuttles in Costa Rica are specifically for tourists and often include pick up and drop off at your selected hotels and airports. The drivers also speak some English, and the vehicles have air conditioning. You'll also be guaranteed a seat when you book a shuttle (which isn't the case with the public bus system.)
To get the best price, use the website Bookaway. They compare all the offers and prices of shuttle companies in Costa Rica so you get the best price! Honestly, we have saved so much money using Bookaway!
You can search for shuttles online on Bookaway here.
Public Bus
Lastly, you can use the public bus system. On short journeys, such as from San Jose to La Fortuna or Uvita to Manuel Antonio, this system is great. However, the longer the journey the more hassle and time spent on a bus. It's undoubtedly best to save the public bus in Costa Rica for short and straightforward trips!
The public buses are definitely the cheapest way to get around Costa Rica, but they are not always very reliable and schedules often change without notice and delays are to be expected. The buses can also be very crowded and hot – so just be prepared!
It's also good to speak some Spanish if you plan on riding the public bus since most drivers and ticket booth operators don't speak English.
Invest in Travel Insurance
Paying out of pocket for trip interruptions or medical treatment will add to what might already be a stressful situation. Not to worry, SafetyWing is here to help!
This affordable travel and medical insurance is perfect for digital nomads, long-term travelers, and remote workers. The best part is that it only costs $45 USD per 4 weeks.
To start coverage you must purchase it after leaving your home country. We usually purchase it as soon as we land at the airport.
Since using SafetyWing we've been reimbursed thousands of dollars when we've gotten sick. During the pandemic, they've even gone as far as to pay for our last-minute flights back to Canada before the border closed!
Pura Vida!
Thanks for reading our picks for the 11 best beachfront resorts in Costa Rica! Hopefully, this has helped you figure out which beachfront property is a good fit for your vacation. They are all beautiful so whether you're looking for a budget-friendly room or a luxury villa, these resorts have you covered.
Once you have the right resort for your getaway, make sure you take a look at our other blogs about the country. We can help you plan an amazing trip with all the best tours, activities, and restaurants. Think of us as your personal guides to an amazing holiday in Costa Rica! If you have any questions, feel free to leave a comment below.
9 BEST Tours of Costa Rica – Multi-Day Guided Tours
Is Costa Rica Safe? Travel Scams, Safety Advice & More