Costa Rica is known for a lot of things – its incredible national parks, abundant wildlife, and Pura Vida lifestyle, but perhaps what it's most known for is its beautiful beach towns. Up and down both coasts (Pacific and Caribbean), there are literally miles upon miles of sunkissed sand and bright blue ocean. Yep, the beaches in Costa Rica are some of the best in the world.
And right next to these incredible beaches are some fantastic beach towns. From teeny-tiny off-the-beaten-path towns like Dominical to bustling tourist hotspots like Santa Teresa or Tamarindo, it's fair to say there's a beach town for every type of tourist in Costa Rica!
These beach towns have plenty to boast about, from epic surf to unforgettable restaurants and a wide variety of accommodation options. To help you narrow it down for your next vacation, we've rounded up 15 of the best beach towns in Costa Rica, and I've gone one step further and made it even easier for you to decide by listing the best things to do and the best places to stay in each town!
1. Montezuma
Montezuma could best be described as a bit of a 'hidden gem' beach town in Costa Rica. Situated on the southern end of the bustling Nicoya Peninsula, it still receives a steady influx of tourists who come here to escape the hustle and bustle of more popular beach towns like Santa Teresa or Nosara.
Because it is a little off-the-beaten-track, getting to Montezuma from the main airports in the country is quite a trek, with Liberia International Airport being a 3.5-hour drive away (187 km) and San Jose International Airport even further at 4 hours and 20 minutes away.
Its remote location means Montezuma has a small village feel and has thankfully retained its laidback Costa Rican charm – "Pura Vida!"
Despite its size, Montezuma offers some great things to do. These include exploring beautiful waterfalls, tours to the spectacular Tortuga Island, and the stunning Cabo Blanco National Reserve is nearby too. Montezuma Waterfall is a must-visit! Of course, not forgetting that one of the most popular things to do here is surfing at nearby Playa Grande.
The village itself is very photogenic, with lots of colorful walls and buildings. It offers a wide variety of restaurants, hotels, a few clothing stores, and two supermarkets. on the weekends, the main plaza comes alive with locals and tourists enjoying a couple of drinks and chatting. The weekly market is also a lot of fun and the perfect place to buy locally grown, organic produce.
Where to stay in Montezuma
Casitas Solevante – $$$
These casitas, or tiny houses, are 800 meters from downtown Montezuma. However, the strategic position facing the sea offers a breathtaking view. Surrounded by a tropical garden, Casitas Sollevante offers a unique outdoor infinite pool and jacuzzi. Rooms are also very well equipped with air conditioning, a mini-fridge, a security box, an electric kettle, and outdoor furniture. Apartments and villas have one or two bedrooms and have a fully equipped kitchen with a dining area. One of the best places to stay in Montezuma, without a doubt!
Hotel El Jardin – $$
This hotel, surrounded by a beautiful garden, is located in downtown Montezuma only a few meters away from the beach. Hotel El Jardin has two big outdoor swimming pools and a jacuzzi. The hotel offers 16 rooms with a warm and rustic design. The rooms are very spacious with air conditioning and a mini-fridge.
Luminosa Montezuma Hostel – $
Luminosa Montezuma Hostel is located just in front of Palmeras beach, located a 10-minute walk from Montezuma Beach. The rooms are simple but neat. There are three mixed dorms (3-10 beds) at $15 USD the night. There is also one 3-bed private room. The hostel also offers a fully equipped shared kitchen, free coffee in the morning, and free WiFi all day. Laundry facilities and a bike rental service are other perks of this place.
2. Santa Teresa
Anyone with an interest in surfing will recognize Santa Teresa as one of the best places in Costa Rica (if not the world) to go surfing! This small beach town, surrounded by thick jungle, stretches the length of an epic surf spot – Santa Teresa Beach, which is where you'll find great waves all year! There are plenty of cheap surf rental stores in the town, or if you're a beginner, you can easily book a highly-rated lesson when you get here.
In saying that, Santa Teresa has so much more to offer than just a 'surf town'. Yep, nowadays, it's a vibrant beach town with plenty of cool beach clubs, hip cafes, and restaurants. And to add to the mix the fact there are plenty of fun activities on offer here, from joining a surf lesson to hopping on an inshore fishing charter to non-water related experiences like yoga and ziplining!
Considering how far it is from San Jose International Airport (a 5-hour and 15-minute drive) and Liberia International Airport (3 hours and 45 minutes), its popularity with tourists from all walks of life is a testament to how awesome this Costa Rican beach town really is!
Related Read: Check out the best cheap and free things to do in Santa Teresa, ideal if you're on a budget!
Where to stay in Santa Teresa
Casas de Agua – $$$
Set amidst tropical gardens and just a three-minute walk from Playa Hermosa, Casas de Agua is the ultimate luxury retreat for couples and traveling families. At your villa, enjoy a private swim in your own outdoor pool, play some card games in the spacious living room, and prepare a feast in the fully-equipped kitchen. If you want to take your accommodation up a notch, book the villas with a whirlpool, wooden deck solarium, and fish pond.
Manala Hotel – $$
As soon as you arrive at Manala Hotel, what will immediately catch your attention is its unique architecture and interiors combining Caribbean and Mediterranean styles and a large outdoor pool. Checking into your bungalow, you'll find that it isn't really close to the other bungalows on the property and is enveloped in more tropical plants, so you'll have lots of privacy. Your suite includes all the standard amenities you'll expect in a hotel: TV, air conditioning, and a well-appointed bath and shower in the bathroom. But beyond the usual en-suite facilities, you also have access to your very own spacious terrace.
Point Break – $
At Point Break you can choose from the room type that best fits your need (dorm, apartment, double, twin, triple, or quadruple), all of which come with air conditioning, complimentary toiletries, and a safety box. Point Break's rooms aren't stuffy and are individually designed to make you feel at home. But what you'll really love about this room in Santa Teresa is its furnished private terrace! Point Break won't disappoint in terms of on-site facilities, too. If you don't like heading out to the restaurants for breakfast, just make your own in the shared kitchen or use the BBQ facilities.
3. Nosara
Tucked away on the famous Nicoya Peninsula, Nosara offers the best of both worlds with breathtaking nature reserves like Nosara Biological Reserve a short distance from the town and the fact that it's built on the shores of the Pacific Ocean – this beach town is sure to delight both adventure-lovers and water fans.
Another well-known surfing destination, Nosara, is a sought-after destination for surfers from all over the world who come to the town to experience the perfect surf conditions in Playa Guiones (the main beach in town). But because of its soaring popularity, visitors should expect to pay a little more for their accommodation here.
I will add that Nosara is very spread out, and it can be broken up into South Playa Guiones, North Playa Guiones, Playa Pelada, and the harder-to-reach hilltops of Nosara.
If you're visiting the town without a car, staying in North Playa Guiones is where I recommend you stay in Nosara. This vibrant neighborhood is the most popular spot for tourists and is home to an array of restaurants serving a wide selection of dishes and a sprinkling of trendy shops reflecting the town's bohemian vibe.
Conveniently, Nosara is just a 2.5-hour drive from the closest international airport in Liberia.
Where to stay in Nosara
The Gilded Iguana – $$$
The Gilded Iguana is known as Nosara's "original surfer spot", thanks to its strategic location that puts you not only 200 meters from Playa Guiones but also just less than two miles from Playa Pelada. Your room features artisanal, handmade details and custom-made furniture that scream tropical in every way. There's also an onsite Athletic Center where you can join a yoga or Jiu-Jitsu class or hit the gym, a large outdoor pool and on-site restaurant.
The Nomadic Hotel – $$
The Nomadic Hotel has to offer. This cozy hotel sits just five minutes away on foot from the beach. Your room is pretty minimalistic, with locally farmed teak wood beds, air conditioning, and Wi-Fi. If you're vacationing here with a loved one, feel free to book The Nest, a well-appointed apartment complete with a kitchen and living space. Here, you'll have a private balcony to enjoy the refreshing sea breeze and stargaze at night. There's also a saltwater pool, a bar, and a rooftop terrace.
Nosara Beach Hostel – $
Traveling on a budget but still want to stay somewhere cozy and clean? Nosara Beach Hostel has your back. Pretty much the ONLY budget backpacker accommodation in all of Nosara, this hostel gives you the best value for your money. Staying here means you're only a quick five-minute walk to Playa Guiones. What I love about this hostel is that it's pretty airy and open. You can lounge on the breezy wrap-around patio all day long while you take in the beauty of the garden in front of you. There's also a common area on the property where you can meet other guests, stay on top of your favorite TV show, or pass the time with some board games.
4. Samara
Samara is another awesome beach town in Costa Rica and is a great choice for a beachy getaway. Situated in the Guanacaste Province, Samara is incredibly scenic and is surrounded by lush jungle; plus, its main beach, lined with palm trees, is like something you'd see on a postcard.
Called Playa Samara, this beach is situated within a sheltered cove, meaning the water here is lovely and calm and ideal for swimming or beginner surfers (unlike some of the other beach towns I've mentioned above!)
This small town is renowned for its laid-back atmosphere and is also very safe, meaning it's a very popular spot with families. The town itself runs along the beach and is lined with well-rated restaurants, boutique stores, accommodation options, and tour operators.
On top of that, Sámara has many amazing attractions and great tours to enjoy, from chilling out in the unique tidal pools here, hiking to Belen Waterfall, or kayaking out to the pink sand of Isla Chora.
A big plus too is that Samara is nice and close to Liberia International Airport at just under an hour and 45 minutes drive away, so it's conveniently one of the most accessible beach towns in Costa Rica!
Where to stay in Samara
Villas Kalimba – $$$
Strategically built just a minute's walk away from the beach, Villas Kalimba is right in the center of Samara but offers you a private retreat away from the noise. What makes me a fan of Villas Kalimba is their reasonably priced villa-style rooms. Sure, the rooms lean more into the modest and basic side with standard amenities like a private bathroom, air conditioner, cable TV, and fully-equipped kitchen. But what gives them their charm is the lush garden surrounding each unit for privacy. You also have a large wraparound terrace, where you can enjoy your cup of coffee while listening to the sounds of the birds flying across the lawn.
Fenix Hotel – $$
Fenix Hotel is not exactly located in the downtown area of Samara, as it's a casual 15-minute walk away from the town amenities. But while that's a bit of a hassle, what makes Fenix Hotel worth the trouble is its strategic position on the beach. In fact, it's so close that the sand is basically at your room's front door! Fenix Hotel is really all about rest and relaxation. Right on the property, you can find an abundance of towering palm trees, providing the hotel's front yard with lots of shade for you to lounge in. There is even a BBQ rancho and cabanas here, so you can relax with your entire group.
Tico Adventure Lodge – $
Tico Adventure Lodge has everything you need and more. This jungle-style lodge sits away from the bustling streets of the downtown area, giving you the peace and quiet you crave. Take a quick walk around the property, and you'll come across a year-round outdoor pool and indoor hot tub. There's also a garden courtyard, where you can lounge and chitchat with the other guests.
5. Puerto Viejo
Located in the Southeast of the country and spread along the Caribbean Sea, Puerto Viejo (aka Puerto Viejo de Talamanca) has a distinctive Caribbean vibe and is very popular with backpackers who come here to chill out on the epic beaches during the day and party at night!
Yet it's not just backpackers who fall for this town's charms, surfers and adventure travelers love Puerto Viejo too! That's because even though the surf along the kilometer-long beaches here is calmer than in, say, Santa Teresa or Nosara, the water is warmer, and the marine life is plentiful. And as for the adrenalin junkies, you can try out white water rafting or join a hiking and waterfall tour through Cahuita National Park!
In downtown Puerto Viejo, everything is within walking distance (like numerous restaurants and Cafes), and if you're a party animal, this is where you should book your accommodation, as this area really comes alive at night! Expect to hear salsa and reggae music blasting from the bars here. In fact, Puerto Viejo's nightlife is unlike any other you'll see in the region.
Situated in the Limon province, Puerto Viejo is a whopping 4.5-hour drive from San Jose (and the international airport there!) But the closest city, Limon, is just an hour away.
Where to stay in Puerto Viejo
Umami Hotel – $$$
Umami Hotel has a refreshing minimalist white theme with coral and wood finishes will be the first to greet you. The best part? Umami Hotel is exclusive to adults, so you won't be bothered by rowdy kids spoiling your holiday relaxation! Apart from the hotel's appealing theme, what I love about this property is its top-notch amenities strategically placed within a few steps from the rooms. There's an outdoor pool just outside the ground floor suites and you'll find a spa on-site, too.
Black Bamboo B&B – $$
Located just an eight-minute walk from the beach, Black Bamboo B&B really makes it easy for first-time visitors to make the most out of staying in Puerto Viejo. it's a relatively small B&B, but the rooms are pretty comfy and nice. They're primarily designed with wood furniture with the white canopy bed as the main piece. The rooms also overlook the pool, so you can enjoy the refreshing view of the garden and pool from your terrace as soon as you wake up. Other amenities you can find right on the property are a fully-equipped shared kitchen, an open-air dining area near the pool, and BBQ facilities.
Hotel Pura Vida – $
Want to stay somewhere close to the beach but need to stick to a budget? Hotel Pura Vida is just what you are looking for. The rooms are pretty breezy and immaculate with polished wood, ceramic-tile floors, and comfy canopy beds. If you don't feel like heading out, you can spend your day relaxing in the hammocks and taking in the view of the surrounding garden.
6. Manzanillo
Manzanillo is a chilled-out fishing village that's situated in the Limon region along Costa Rica's Caribbean coast, which is around 4 hours away from San Jose by car. It's also not far from Puerto Viejo.
The town itself is small (like reallllyyy small), and much of the region remains untouched by tourism, including its pristine beaches. This is the perfect destination if you're looking to get off of the tourist track and experience an authentic slice of Costa Rican life.
This tiny town is located inside Gandoca Manzanillo Costa Rica Park, where you can spot an array of amazing wildlife, including tapirs, white-faced monkeys, green sea turtles, and so much more. There's also Manzanillo Beach, which is considered one of the prettiest beaches in Costa Rica thanks to its clear blue waters and long stretch of golden sand. Plus, there's an offshore coral reef where you can go snorkeling and explore the area's vibrant marine life.
Manzanillo is also known for its strong Afro-Caribbean culture, and it's a great place to discover the unique and fascinating customs of the Limon region.
Where to stay in Manzanillo
Faith Glamping Dome Costa Rica – $$$
Faith Glamping Dome is nestled in the fringe of the jungle, just steps away from a private beach, allowing you to wake up each morning surrounded by nature while still enjoying all of your creature comforts. With its prime location and variety of wellness treatments available, this is the perfect place to relax and recharge in Manzanillo.
Cabinas Yamann – $$
Cabinas Yamann features comfortable wooden cabins are located just 50 meters away from the beach and feature two double beds, a fridge, private bathrooms, and a veranda with a hammock to relax in after a day of exploring. There's also a communal kitchen, a barbecue area, and a swimming pool available on site. The property is scenic and homely, with friendly staff who are on hand to help you make the most of your stay.
El Colibri Lodge – $
Hidden away in the jungle, El Colibri Lodge is a great budget stay that's just a few kilometers from some of the area's best beaches, as well as a jaguar sanctuary. You can even spot monkeys, lizards, and sloths while relaxing in the communal garden. There's no kitchen on site but you can opt for a continental breakfast.
7. Cahuita
Cahuita is a tiny town with a laid back vibe that nonetheless is full of vibrant Afro-Caribbean, Latin, and Indigenous culture. The downtown area is a small grid, but it's home to some great restaurants, bars, and shops where you can experience the local culture first-hand. It lies along the Caribbean coast, just a few kilometers away from the Panama border.
The real draw here is the beautiful Cahuita National Park, which lies along the coast and spans over 55,000 acres. It's home to an amazing variety of wildlife, including lizards, birds, monkeys and sloths. You can also find a stunning protected coral reef here, which is actually one of the largest in Costa Rica.
There's plenty to keep you busy in Cahuita, including hiking jungle trails, taking a chocolate tour, sampling tasty local dishes, relaxing on the beaches, and surfing. You can also visit a butterfly or iguana farm, and grab drinks at the reggae bar.
Where to stay in Cahuita
Lilan Nature – $$$
Lilan Nature is a luxe villa that has 2 bedrooms, 3 bathrooms, and a private pool where you can relax and soak up the sun after a day of exploring. Inside, it's light and airy with super stylish decor, and there's a full kitchen and washing machine. There's also a tennis court on site if you fancy a game.
Cahuita Inn – $$
This lovely guesthouse has a small swimming pool, sea and garden view rooms, and a nice terrace where you can relax and spot some wildlife! It's a great place to meet other travelers, and it's conveniently located right next door to a pizzeria. Cahuita Inn is also less than a kilometer away from both black and white sand beaches, so it's the perfect base to explore the coastline.
Playa Grande Lodge – $
Playa Grande Lodge is a rustic, pet-friendly lodge that offers comfortable cabins and treehouses just 50 meters away from Playa Negra. All cabins have private bathrooms and some also come with fully-equipped kitchens if you want to cook for yourself. The host is super friendly and helpful, and the breakfast is delicious.
8. Tamarindo
Widely regarded as one of the best beaches in Costa Rica – Tamarindo is a bustling resort-style town in the province of Guanacaste. Its notoriety as the ultimate beachy getaway is unmatched thanks to its top-class surf beach, excellent restaurants, fun nightlife, and a wide range of activities.
Because of the variety of things to do, Tamarindo doesn't attract just one type of traveler; in fact, you'll see families, backpackers, and locals holidaying here.
Of course, many of the activities here are water-based, think surf lessons, a sunset catamaran cruise, to trying out a SUP, but you can also head inland for a different experience. The Monkey Park Foundation, an animal rescue center, is a great place to spend a couple of hours. As well as that, there's an awesome craft beer brewery that offers great views! You can also choose from a range of fun tours in Tamarindo – from sightseeing to adventuring and everything in between.
Plus, at just over an hour's drive from Liberia International Airport -Tamarindo is the perfect choice for those travelers who don't fancy a long transfer after hopping off an overseas flight!
Related Read: If you're on a tight budget you'll be pleased to know there are heaps of cheap and free things to do in Tamarindo!
Where to stay in Tamarindo
Jardin del Eden Boutique Hotel – $$$
Jardin del Eden Boutique Hotel is an adults-only boutique hotel in the center of Tamarindo, it's set in a tropical garden brimming with trees and flowering plants but far enough away from the bustling streets to provide you with nothing but the private retreat you're craving. As one of the best hotels in Tamarindo, Jardin del Eden will pamper you with top-notch amenities in your suite and world-class facilities on the property. The rooms include flat-screen TVs and high-speed Wi-Fi, plus a huge (beautiful!) bathroom.
Ten North Tamarindo Beach Hotel – $$
Sitting right in the heart of Tamarindo town, Ten North Tamarindo Beach Hotel is one of the Tamarindo hotels that puts you within walking distance to the town's best restaurants and shops. As soon as you walk into your room, you'll notice its "beachy vibe" with the driftwood headboard, turtle sculptures, and blue upholstery – perfect for your beach holiday. There are also blackout drapes, a flat-screen TV, and a fridge in your room! For the hotel amenities, Ten North provides everything you need for a comfy stay. Get pampered with on-site massages or soak in the sun in the outdoor pool.
Selina – $
Selina is every traveler's go-to accommodation provider for a budget-friendly stay in Costa Rica. But apart from its affordability, what makes Selina Tamarindo stand out from the other hotels in the Tamarindo downtown area is its unbeatable surfing school program. At the hotel itself, you can chill at the outdoor pool or enjoy some chick-flicks in the movie room. There is a lively restaurant and bar on the property, as well, where you can try the best Costa Rican dishes. At Selina, you'll have the choice of staying in a dorm or a private room, both of which are equipped with air conditioning (a must in Tamarindo if you ask me). You can also shop around for the best deal on either HostelWorld.com or Booking.com!
9. Manuel Antonio
Manuel Antonio is an idyllic beach town in North Puntarenas. As one of the most-visited towns in the whole country, its popularity lies in the fact that its next door to the famous national park of the same name. Manuel Antonio National Park is the smallest national park in Costa Rica, but it's home to some of the most breathtaking beaches I've ever seen, abundant wildlife (think squirrel monkeys, sloths, frogs, and more), and challenging hiking trails.
Much of Manuel Antonio is built on the hillside, with a small portion of the town down at Playa Espadilla (the main beach), but it's a short 5-minute drive between the two. And it's super easy to get around with the local bus or taxis.
Beach lovers will love Playa Espadilla, considered one of the best beaches in Costa Rica – and it's a great spot to learn to surf as the waves are gentle and calm.
Because of Manuel Antonio's location on the hilltops surrounded by dense vegetation, you're likely going to encounter lots of wildlife, like sloths, on your stroll around – which is pretty cool.
Overall, Manuel Antonio is a beautiful beach town with the perfect mix of bars, restaurants, hotels , and with plenty of fun things to do, like a sunset sail cruise, hiking to Nauyaca Waterfall, and exploring the area's 'secret beach.' It's certainly one of the must-visit beach towns in Costa Rica.
Manuel Antonio is 2.5 hours from San Jose and only 15 minutes to the closest large city of Quepos.
Where to stay in Manuel Antonio
Hotel La Mariposa – $$$
Standing on the town's highest point, Hotel La Mariposa treats guests to a majestic 180-degree view of the Pacific Ocean, the National Park, and even the neighboring town of Quepos. With its wooden furniture and tropical decor, it's brimming with Costa Rican charm everywhere you look. There are also top-notch amenities and services you can find right on the property. Among them are two infinity pools, where a panoramic vista of the ocean is waiting; a spa center, where you'll get pampered with soothing body treatments; a pool bar to quench your thirst for cocktails; a complimentary beach shuttle for easy access to Biesanz Beach.
Millenium Manuel Antonio – $$
If visiting the National Park is your main reason for coming to the town, there's no better hotel for you than Millenium Manuel Antonio. This two-star hotel is legitimately just 25 meters away from the park entrance and five minutes on foot from Playa Espadilla. Beyond the hotel's prime location, what makes Millenium an awesome find is its on-site amenities and services. If you don't feel like walking to the coast, you can always stay cool in the outdoor pool, lay back in the sun loungers, or rent a car to explore the area.
Costa Linda Art Hostel – $
When deciding where to stay in Manuel Antonio on a budget, you can never go wrong with Costa Linda Art Hostel. Sure, its rooms are pretty bare and basic, but it's the hostel's budget-friendly rates and central location that make it one of my go-to Manuel Antonio hotels. The hostel also boasts a handful of amenities, so you won't need to wander far. You can grab breakfast in the in-house restaurant and bar or hang out in the on-site library that houses an extensive German book collection.
10. Playa Hermosa
There are two towns called Playa Hermosa in Costa Rica, but I'm talking about the one in the Guanacaste Province (the other is along the Central Pacific coast in Puntarenas).
Playa Hermosa's calm waters make it popular for swimming and snorkeling in Costa Rica, while the Catalinas Islands are close by and you can head over on a boat to go on a scuba diving adventure. It's also a great place in Costa Rica for kayaking and windsurfing.
Playa Hermosa is surrounded by forests, which you can explore on a bike, a motorbike, an ATV, or even on horseback. The town is also a good base for exploring the caves at Barra Honda National Park, which is about 26 kilometers (16 miles) away.
Playa Hermosa means "beautiful beach," and it certainly lives up to the name, with beautiful golden-white sand. The beach here rarely gets crowded, so it's the perfect place to relax and sunbathe between adventurous activities.
The town is still quiet, but it is becoming increasingly upscale as luxury hotels are beginning to line its shores. All in all, Playa Hermosa is one of the best places to visit in Costa Rica!
Where to stay in Playa Hermosa
Hotel Bosque del Mar Playa Hermosa – $$$
Hotel Bosque del Mar Playa Hermosa is a gorgeous boutique hotel that offers luxury suites nestled right in the trees, just steps away from a quiet beach where you can enjoy cocktails and massages on the sand. You can relax by the hotel pool on a sunbed or in a private cabana, or chill out in the hot tub. There's a stylish bar on site, as well as a restaurant that serves classic Costa Rican dishes with a gourmet twist.
Hotel El Velero – $$
Hotel El Velero is a beachfront hotel that has comfortable rooms, a swimming pool, and a restaurant that serves up fresh, locally caught seafood. There's a nightly happy hour and the staff really do go above and beyond to make guests happy.
Villa del Sueño – $
The "villa of dreams" is a hotel situated in a tropical garden, just 150 meters away from Playa Hermosa. There's a pool, an on-site restaurant and bar, as well as several other dining options nearby. Villa del Sueno really punches above its weight in terms of price!
11. Playa Coco
Playa Coco in Guanacaste is a popular beach town that has a more touristy feel than some of the others on this list, and many expats choose to make it their base in Costa Rica. For that reason, there's a nice mix of local and international cuisine to be found in town.
The gentle waters of Coco Beach make it a great spot for swimming, fishing, and skimboarding, and you can enjoy stunning sunsets here. You can also take a day trip to Hacienda Guachipelin, which is around 55 kilometers (34 miles) away, and relax in the adventure park's hot springs and mud baths or go ziplining and white water tubing.
Playa Coco is also about an hour and 20 minutes drive from Rincon de la Vieja National Park, where you can enjoy the Las Pailas hiking trails, take a mud bath, and visit waterfalls.
In town, you can visit the Alessandra Cola gallery or the Art Boutique to check out some amazing local artwork, have fun browsing at the eco market, or get a fish pedicure at the Fish Spa on the beachfront.
Where to stay in Playa Coco
Coco Sunset Hills #52 – $$$
With spacious apartments, a gorgeous staggered swimming pool, and a beautiful garden with mountain views, Coco Sunset Hills is an amazing place to stay while you're in Playa Coco. It's also just a five-minute walk from the beach, so you can enjoy some stunning Caribbean sunsets by the water.
Luxury Coco Villas – $$
For more affordable luxury, the Coco Villas offer airy, self-catered accommodation just 400 meters from Coco beach. Each villa has a kitchen, living room, and patio, and there's a communal garden and barbecue area, plus a swimming pool. Guests can also enjoy the use of free bicycles during their stay.
12. Playa Conchal
In the north of the Guanacaste province, Playa Conchal is considered to be one of Costa Rica's most exotic beach destinations. The beach is perched on the edge of Brasilito, which is a humble town where you can experience the true Costa Rican way of life (including the occasional late night fiesta).
Playa Conchal itself is considered to be one of the most beautiful beaches in the whole country. It's a curved, white-shell beach, so make sure to wear shoes! It's not overly touristy, but you can find massages and piña coladas on offer here. You can also rent snorkels and swim with the tropical fish on the reef towards the northern side of the beach.
For something even more glamorous, you can go jet skiing around the bay, or head to Reserva Conchal for a round of golf. The tourist town of Flamingo is also just 5 kilometers (3 miles) away, which is home to the Onzen Spa, a casino, and a farmer's market every Monday evening between November – April and June – August.
Where to stay in Conchal
W Costa Rica Resort – $$$
W Costa Rica Resort is a 5-star resort that just oozes style, with 2 large infinity pools, 3 restaurants, swanky fitness center, and indoor/outdoor bathrooms. Each room or suite has a private balcony, a mix-bar, and some even have their own private plunge pools, or you can opt for an amazing tree-house style suite. If you want to stay in the lap of luxury in Playa Conchal, you really can't go wrong here.
The Westin Reserva Conchal, an All-Inclusive Golf Resort & Spa – $$$
Everything you need (or want) is right at your fingertips at the Westin Reserva Conchal. This beautiful all-inclusive resort has a private beach, a selection of international bars and restaurants, and a well-stocked refreshment station. Some suites even offer a large outdoor tub where you can kick back, relax, and enjoy the sunset.
13. Uvita
Uvita is another awesome beach town with that Costa Rican laidback charm that so many tourists come here in search of. Situated on the South Pacific side of Puntarenas, its relatively remote location (it's just over 3 hours from San Jose International Airport) means that it's not as busy as other beach towns in Costa Rica, so if you're after a relaxing getaway Uvita is the spot for you!
I mean, it's breathtakingly beautiful here, with long sandy beaches and a thick jungle enveloping the town. Not forgetting that the locals here are some of the friendliest I've come across on my travels through Costa Rica.
But what really makes Uvita stand out from its neighboring towns is the famed Playa Uvita, where you can visit the Whale's Tail. This travel-brochure-worthy half-mile-long sandbar is shaped like a whale fin and is located in Marino Ballena National Park – one of the best places to see in Uvita!
A short distance from Uvita, you can explore the lovely Nauyaca Waterfalls and Uvita Waterfall, go surfing at nearby Playa Hermosa, or if you're up for booking a tour – I highly recommend this whale-watching tour!
Even though Uvita is small, it's very spread out and is split into three main areas: Playa Uvita (aka Uvita Beach) near the National Park, the main town near the highway, and the hilltops in the lush jungle above the town.
Uvita Beach is my favorite area to stay in Uvita, as it means I'm close to the beach, most of the restaurants, and popular water activities like snorkeling and scuba diving are on your doorstep.
Where to stay in Uvita
Bungalows Ballena – $$$
A cozy accommodation provider just 300 meters north of Marino Ballena National Park's main entrance, Bungalows Ballena makes you feel like you're right at home with all of their comforts. Here, you can enjoy a beautiful two-bedroom stand-alone villa, which is nestled in the property's well-manicured garden of flowering plants and towering palm trees.
Seren Glamping – $$
Seren Glamping immerses you in the beauty of nature the way that camping does but without you giving up the conveniences of a hotel room. This means you can still enjoy the comforts of air conditioning and Wi-Fi, all while taking in the refreshing outdoor air and listening to the wildlife roaming about right from your tent. At the property, you'll be staying in a large tent pitched on a wooden platform and complete with a comfy king-size bed. This platform is where you can also find your private outdoor bath and shower, and seating area. The on-site plunge pool and garden with stunning mountain views are right in front of your tent.
Whale Tail Hotel – $
This Uvita hostel offers everything from private suites to shared dorm rooms. But beyond the cheap rooms, Whale Tail Hotel has more in store for you. Right on the property is a swimming pool, where you can escape the scorching heat whenever you want. Drop by the games areas and BBQ lounges to chitchat with the other guests or head to the co-working space to finish that report.
14. Dominical
Smack bang in the middle of other more popular beach towns like Manuel Antonio and Uvita lies the tiny bohemian town of Dominical – one of the most underrated surf destinations in Costa Rica! Surfers flock here throughout the year to challenge themselves on the powerful waves in Playa Dominical, which are pretty consistent no matter what month you come.
Plus, when you consider that the accommodation options in Dominical are cheaper than in most other surf towns, it's a great budget-friendly option!
Its laidback vibe is mirrored in the way the town is built – along the beach with no paved roads and just a handful of restaurants and cafes, you'll really feel a million miles away from your busy life back home.
Some of the best things to do in Dominical include whale watching, exploring Marina Ballena National Park (home to the famed 'Whale Tail'), and drinking craft beer at Fuego Brewing Company! Of course, it goes without saying that you have to try surfing when you're in Dominical – and even if you're a beginner, it's still safe to surf here – although I would recommend booking a highly-rated surf lesson like this one!
Be sure to also make the trip to the nearby Nauyaca Waterfalls – they are super impressive and very close to Dominical.
Dominical is about a three-hour drive from the closest airport – Juan Santamaria International Airport (SJO).
Where to stay in Dominical
Tribe Boutique Hotel – $$$
Although the Tribe Boutique Hotel is set in the heart of the downtown area, you'll still get to be in touch with nature. The hotel is surrounded by vibrant foliage and dotted with day beds and hammocks for you to soak in the sun. If it gets too hot, there's a large pool in the middle of the property, and the beach is a mere two-minute walk away, too.
Tropical Sands Dominical Eco Inn – $$
Tropical Sands Dominical Eco Inn is just a 5-minute walk to the beach and is set in a quiet cul-de-sac. When you step into the property, you'll be greeted with a gorgeous courtyard hosting a well-landscaped garden of tropical trees and flowers. Expect to see lots of toucans visiting the garden, along with hummingbirds, butterflies, and iguanas. There's also a library where books and board games are available for use and a communal kitchen.
15. Drake Bay
And finally, did I save the best for last on my list of the best beach towns in Costa Rica?! I reckon so – Drake Bay is a tiny hidden gem of a town that sits on the Osa Peninsula – the most remote part of the country! So, as you can imagine getting here isn't easy! In the dry season, you can get here by 4×4 vehicle, plane, or boat from Sierpe, but in the wet season, it's not advised to get a car here because flooding can cause road closures.
Naturally beautiful, hard-to-reach, and the gateway to the tropical paradise that is Corcovado National Park (one of the largest and most diverse parks in the country)- those are just some of the reasons I love Drake Bay!
Don't let Drake Bay's size fool you – there are heaps of things to do here, from river tubing to whale watching tours to horseback riding. Or if you just want to relax – grab a spot at the lovely beach, sunbathe, swim, read a book, whatever you fancy; just make sure and stay for sunset – it's stunning!
Drake Bay's main town is Agujitas de Drake and is home to only around 1,000 residents. Getting around town is super easy thanks to its small size, and it's here you'll find several restaurants, cafes, and stores!
Where to stay in Drake Bay
Poor Mans Paradise Lodge $$$
Poor Man's Paradise Lodge is situated right in the popular Corcovado National Park, so if visiting this attraction is your main reason for going to the town, then this is the best accommodation for you! Inside the property, you can find a garden, a bar, and a restaurant. Facilities for disabled guests and complimentary Wi-Fi in all areas are at guests' disposal as well.
Corcovado Jungle Hostel $
Corcovado Jungle Hostel is set along the beach and only 5 km (3.1 miles) away from Drake Bay's town center. So, if you prefer to stay near both the beach and the town, then this is the best option for you. The hostel features a variety of facilities including water sports facilities, a terrace, a shared kitchen, and a garden. A bar and restaurant are also available on-site, where guests can enjoy breakfast, lunch, and dinner. Additionally, Wi-Fi is free throughout the property. Room types here include economy double rooms, economy twin rooms, a female dormitory room, and a male dormitory room.
Getting Around Costa Rica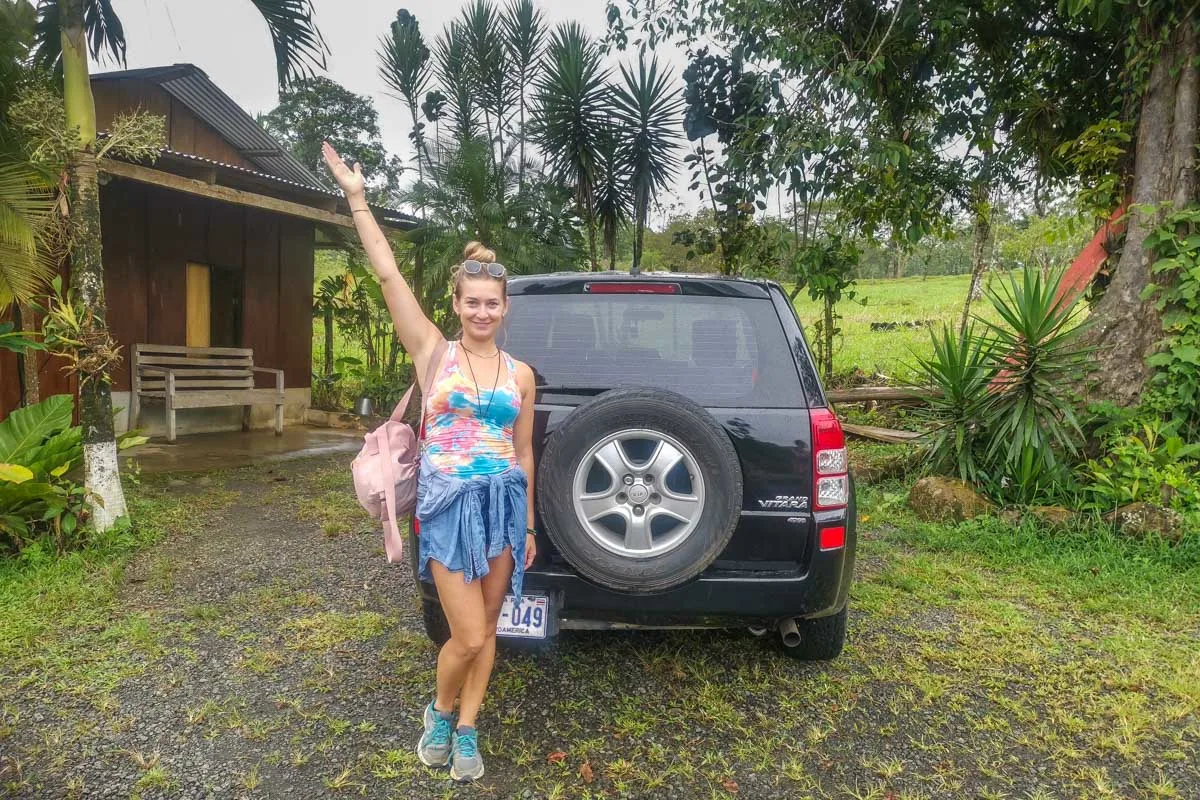 How you choose to get around Costa Rica is one of the biggest decisions you'll make when planning your holiday here! How you do it depends on your budget, travel style, and comfort level.
Renting a Car
Without a doubt, the number one way to explore Costa Rica is in a rental car. We book rental cars on the Discover Cars website as we have had good experiences with them in the past.
One of the things you need to watch for when renting a car in Costa Rica is the mandatory insurance that the government requires you to have. There are a lot of very cheap rentals that don't include this mandatory insurance (TPL) in the original booking price, but there are also ones that do. To avoid additional surprise charges when you pick up your rental car, be sure to rent a car that includes the mandatory insurance when you book.
Thankfully, on Discover Cars it's easy to tell apart the companies that include the mandatory insurance and those that don't. The trick is you can't pick any car on their website. In the picture below, you can see this rental car, with pick up in Jaco, includes the TPL. That means the mandatory insurance is included in the price. Any cover you get above that is extra.
Of course, I still suggest getting the full coverage offered by Discover Cars, which covers you even more.
You can browse cars on Discover Cars here.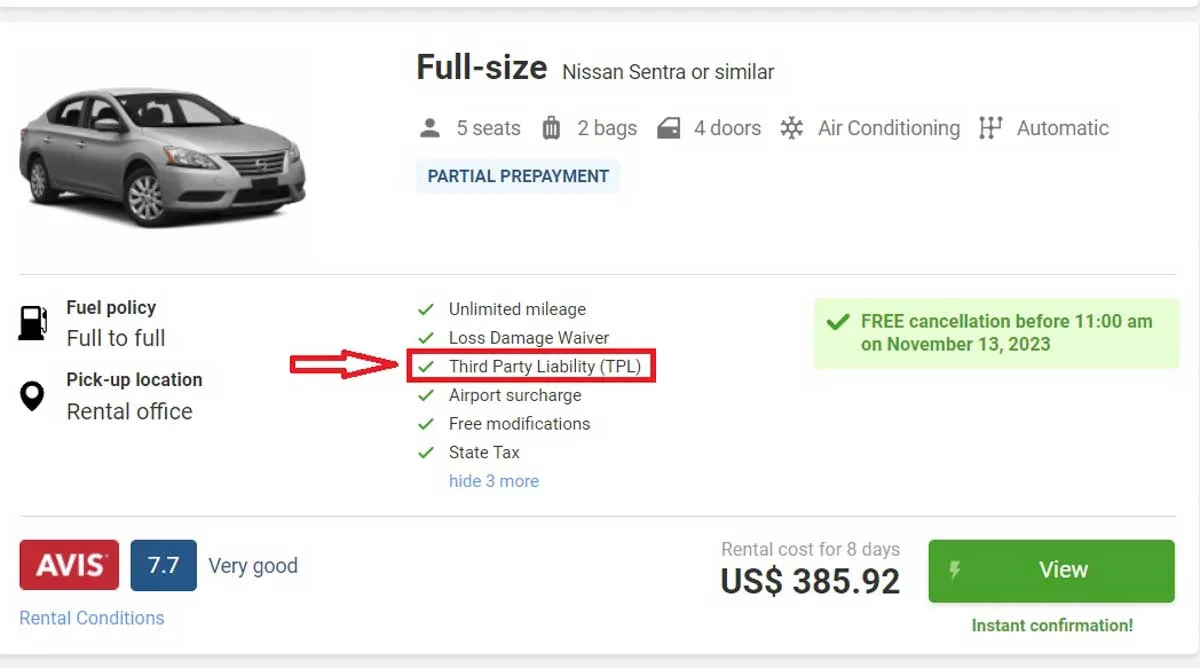 Book Shuttles
If renting a car isn't in your budget, you don't feel comfortable driving in Costa Rica, or you just don't like driving, shuttles are the next best option. There are hundreds of shuttle routes available all over the country, and they are very affordable.
Shuttles in Costa Rica are specifically for tourists and often include pick up and drop off at your selected hotels and airports. The drivers also speak some English, and the vehicles have air conditioning. You'll also be guaranteed a seat when you book a shuttle (which isn't the case with the public bus system.)
To get the best price, use the website Bookaway. They compare all the offers and prices of shuttle companies in Costa Rica so you get the best price! Honestly, we have saved so much money using Bookaway!
You can search for shuttles online on Bookaway here.
Public Bus
Lastly, you can use the public bus system. On short journeys, such as from San Jose to La Fortuna or Uvita to Manuel Antonio, this system is great. However, the longer the journey the more hassle and time spent on a bus. It's undoubtedly best to save the public bus in Costa Rica for short and straightforward trips!
The public buses are definitely the cheapest way to get around Costa Rica, but they are not always very reliable and schedules often change without notice and delays are to be expected. The buses can also be very crowded and hot – so just be prepared!
It's also good to speak some Spanish if you plan on riding the public bus since most drivers and ticket booth operators don't speak English.
Invest in Travel Insurance
Paying out of pocket for trip interruptions or medical treatment will add to what might already be a stressful situation. Not to worry, SafetyWing is here to help!
This affordable travel and medical insurance is perfect for digital nomads, long-term travelers, and remote workers. The best part is that it only costs $45 USD per 4 weeks.
To start coverage you must purchase it after leaving your home country. We usually purchase it as soon as we land at the airport.
Since using SafetyWing we've been reimbursed thousands of dollars when we've gotten sick. During the pandemic, they've even gone as far as to pay for our last-minute flights back to Canada before the border closed!
Pura Vida!
With so many epic beach towns in Costa Rica, it's no wonder these areas are the most popular places to stay in the whole country. And now, after writing about all these lovely beaches, I'm getting a severe case of itchy feet; I just adore Costa Rican beaches! And I hope you will too!
Thanks so much for checking out our blog! As you can tell, we pour our hearts and souls into this blog and hope you enjoyed reading. If you did, then stick around and read some more. What's the hurry? Pura Vida!
ULTIMATE Guide to Planning your Romantic Honeymoon in Costa Rica
15 BEST Ecolodges in Costa Rica (for all budgets!)
Is Costa Rica Expensive? Cost of Traveling to Costa Rica