This blog may contain affiliate links. Read our disclosure policy for more info.
A beautiful coastal city, Puntarenas is the capital of the province of Puntarenas and is a popular stop for travelers in Costa Rica. The name means "sandy point" – perfectly describing this sliver of land and beach that stretches into the Gulf of Nicoya, directly across from the Nicoya Peninsula.
One of the aspects I love is that about 95 km (59 miles) West of San Jose, Puntarenas you'll find an easily accessible jump-off spot for lots of different activities, making it a good home base for your Costa Rican adventures. There are also lots of awesome things to do in Puntarenas city itself, from art galleries and markets to aquariums and great bars and restaurants along the long Paseo de los Turistas (tourists boulevard).
However, the city is a port of call for cruise ships, so it can sometimes get a bit busy, which is where our list of Puntarenas activities comes in extra handy. Keep reading to check out the 12 best things to do in Puntarenas, from relaxing at waterfalls and island hopping to skydiving and cruising with crocodiles! You're sure to fall in love with this city as I have!
Don't have time to read the full article? Check out our list of our absolute favorite things to do in Puntarenas:
Explore Tortuga Island's golden beaches on this full-day tour.
See the sloths, jaguars, and more wildlife at the NATUWA Wildlife Sanctuary.
Visit the Tarcoles Crocodile Bridge and take a peek at the crocs below.
Try the the Churchill, a giant Copa made with shaved ice in a cup topped with Kola syrup, powdered milk, and condensed milk plus ice cream and cookie straws!
Go on this action-packed ATV tour for a mud-splashing adventure through the jungle.
Things to do in Puntarenas, Costa Rica
1. Visit Tortuga Island
There are tons of outdoor things to do in Puntarenas to keep you busy, and one of our favorites was island hopping to the nearby Tortuga Island!
Visiting Tortuga Island is a bit like stepping onto a deserted island in tropical paradise. As such, you can't just walk or drive here.
There are a few ways to get to Tortuga Island, but we ended up on this awesome full-day tour for $115 USD per person that included multiple stops. We met the crew at the meeting point at 8:30 am and jumped on the boat for a 90-minute ride with amazing views and dolphin spotting on the way!
Stops included the beautiful Nicoya Stone Arch and Negritos Island Biological Reserve – two small volcanic islands that are home to tons of diverse plant and animal species like Spider Monkeys. It was pretty awesome to see these little guys swinging around in their natural habitat!
There are a few opportunities during the tour to get in on some snorkeling, and we highly recommend it. Equipment is provided, and the crystal-clear water around Tortuga Island is one of the top spots to snorkel as it's full of beautiful coral and sea critters, including rays, octopuses, and turtles.
After you work up an appetite, you can dig into some lunch (we opted for fresh ceviche) and spend some time being a beach bum here. Tortuga Island has beautiful golden beaches, so you can take a leisurely walk or plop your stuff down and soak up the sun for a while.
In the afternoon, you get another shot at a dolphin sighting as the tour boat takes you back to the starting point. All in all, it's a pretty awesome day of filled with animal sightings and island hopping, and one of our favorite things to do in Puntarenas!
You can book this tour from Puntarenas to Tortuga Island online here!
2. Visit NATUWA Wildlife Sanctuary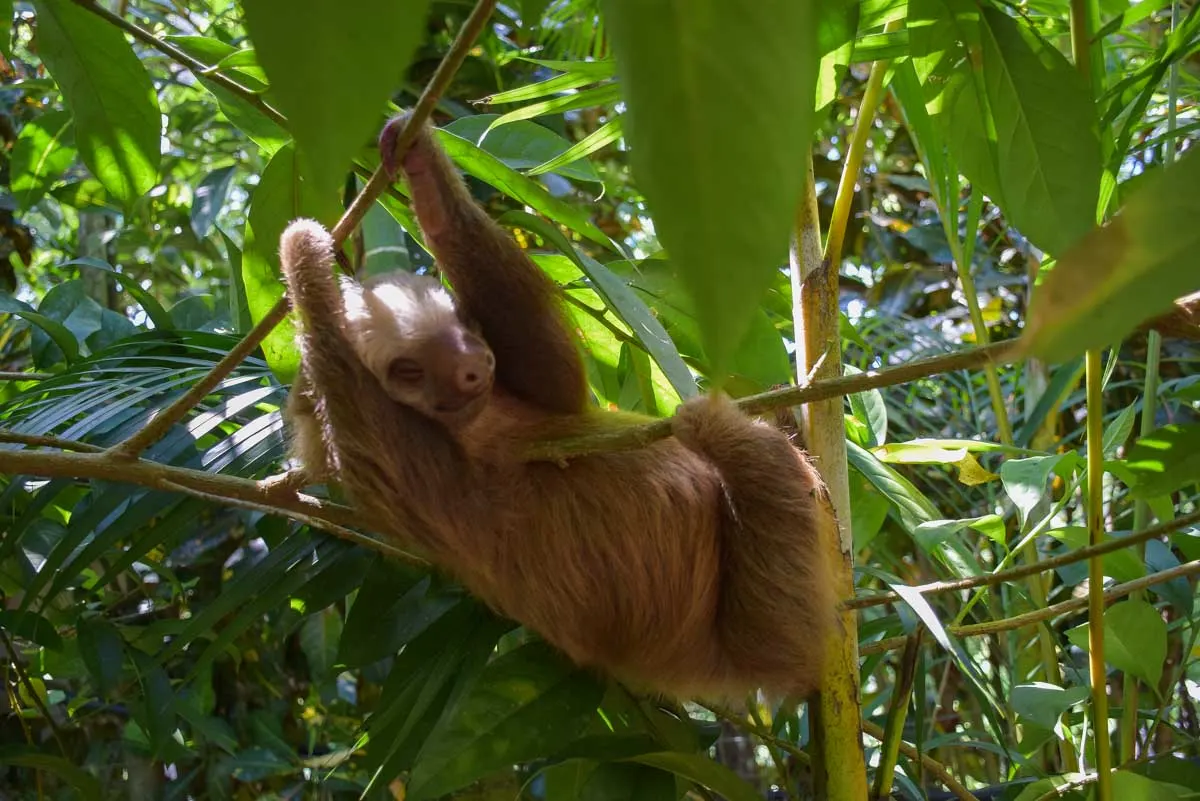 Costa Rica is known worldwide for its extensive wildlife conservation efforts and animal rescue centers, and there are many Puntarenas activities in that category!
NATUWA Wildlife Sanctuary is a great spot to visit, costing about $34 USD per person. It's about a 45-minute drive from Puntarenas, and it's open daily from 8 AM until 4 PM with 6 guided tours throughout the day that teach visitors about the animals and rehabilitation programs.
The Wildlife in Costa Rica is incredible! And on this tour, you can catch a glimpse of different critters, from little guys like Squirrel Monkeys, Margays, and Two-Toed Sloths, all the way up to big cats like the Jaguar! They've also got an impressive variety of birds, and bird lovers will enjoy seeing free-flying Macaws, Toucans, and even African Gray Parrots.
The animals here have been rescued, rehomed, and rehabilitated in the sanctuary, with most of them eventually being released back into the wild once they're happy and healthy.
NATUWA also has some cool community-based projects to protect Scarlet Macaws, where locals can lend a hand in ending nest-looting and illegal trading that puts these birds in danger.
Related Read: Wildlife is just one of the things people love about Costa Rica. Click here to learn what Costa Rica is most known for!
3. Wander Parque Marino del Pacifico
Another awesome activity we recommend for animal lovers in Puntarenas is a visit to Parque Marino del Pacifico (open 9 AM – 4:30 PM Tuesday to Sunday). Listed as the only marine park in Costa Rica, visitors can get a closer look at approximately 50 types of coastal and marine animals that have been rescued or brought in for rehabilitation.
We paid $5.50 USD each for entry ($3 USD for kids under 12 years old) and spent an hour or so checking out the sea animals like fish, turtles, rays, and even some sharks. The staff here are informative and friendly, and it's a nice activity to add in if you're doing a self-guided walking tour around Puntarenas or just in the mood for something low-key but still informative.
It's less than a 10-minute walk from the main bus terminal, located almost at the end of the Paseo de los Turistas. Our top tip would be to grab some food on the way and enjoy the park's picnic zones while you're there!
4. Tarcoles Crocodile Bridge
If you're headed further South along the coast to Jaco or beyond, add a stop to the Tarcoles Crocodile Bridge! About 45 km (27 miles) South East of Puntarenas city and 20 km (12.5 miles) North of Jaco, the Crocodile Bridge is along the highway, and (even better!) it's free to visit.
The bridge crosses the Tarcoles River, part of a large watershed that many animals call home, including these impressive crocs. A pedestrian walkway on the bridge gives great views of the crocs below hanging out in the sun or taking a dip to cool off. When you're done checking them out, you can continue across the bridge, where you'll find souvenir shops and some great restaurants to grab a bite before you go.
Tarcoles Bridge is a popular tourist stop, so there are a few ways to get there. The most popular is with an organized tour. This particular tour visits the Crocodile Bridge from Puntarenas as well as hanging bridges and Carara National Park. It's a full-day tour for only $125 USD including pick up, snacks, a boat tour, and more!
But you can also check it out by renting a car in Costa Rica, or even hop on a local bus that passes over the bridge and ask them to drop you off. Getting there earlier in the day might be a good idea to beat the heat, see more crocs, and avoid crowds.
Why We Book Tours with Viator
Viator is a trusted online booking system for tours around the world! We almost always book our tours using Viator for a couple of reasons:
Free cancellation on most tours – Most of the tours on Viator allow you to cancel and get a full refund up to 24 hours in advance. This is handy in case plans change, or if booking an outdoor activity, the weather forecast is looking grim.
Reserve now and pay later – You can secure your spot on some of the most popular tours well in advance and not pay until closer to the day of the tour.
Pay in your chosen currency – Avoid costly international transaction fees by choosing to pay in your home currency.
Peace of mind – When booking with tour operators you find in person on the street or in small booking offices, you are often promised one thing and given another. This online platform holds tour operators accountable with a written description of inclusions as well as the opportunity for customers to leave reviews.
Check out the Viator website here!
5. Eat a Churchill
The best part traveling is trying new food, including all the local sweet treats! In Costa Rica, they've got Copo, a type of snow cone you'll find all over Central America and our favorite way to cool off. You'll know you've hit the jackpot when you see vendors pushing around little carts serving up shaved ice in a cup topped with Kola syrup, powdered milk, and condensed milk.
They took the Copo and turned it up a notch in Puntarenas, inventing a whole other level of deliciousness called the Churchill. It's a little bigger than a regular Copo with the same ingredients, but it also adds a healthy scoop of ice cream and cookie straws for the ultimate sweet treat!
A regular Copo runs you around 500 Colones (less than $1 USD), and the Churchill costs around 3000 Colones (~$5.50 USD). It's much bigger than a regular Copo, though, and it's worth it! SODA Macarena la Original do the best in Puntarenas!
Related Read: Costa Rica is generally a very affordable place! But to get a feel for prices here, read more about the cost of traveling in Costa Rica.
6. Take a stroll along the Paseo de los Turistas
Every travel day can't be jam-packed with activities, and sometimes it's nice to keep it low-key. One of our favorite things to do in Puntarenas is taking a stroll along the Paseo de los Turistas, a seafront walkway that stretches along the city's south side.
Given the name, you'll find touristy things here, like the popular Puntarenas sign, lots of souvenir shops, and the cruise ship terminal on the Eastern side. You'll also find great local vendors (some selling the famous Churchill!), food trucks, bars, restaurants, and some quiet spots to take in the beautiful sunset views of the Gulf of Nicoya.
7. Relax at the beach
If you're in the mood for a beach day, grab a Churchill and head out to Playa Puntarenas to catch some sun! This beach stretches all along the south side of Puntarenas, but the more popular spots are alongside the Paseo de los Turistas.
With views of the Gulf of Nicoya, this is a great spot to take a dip in the calm waters and enjoy the view or just hang out and be a beach bum. Restaurants, bars, and vendors are nearby, which makes it easy to grab a drink or a bite to eat whenever you need.
8. Go on an ATV tour
We're adventure lovers at heart, and we'll take any chance to jump on an ATV to explore a new place, especially if it's a combo tour!
We opted for this action-packed ATV Tour, starting in Puntarenas with a drive along the coast to Carara Adventure Park for some ATV fun and then onto a Tarcoles Crocodile Safari.
Having been on quite a few tours in different countries, we know some key things to look out for – like safety! The crew here is super friendly and professional, ensuring everyone in the group was confident before we took off through the jungle for a little off-road mud-splashing adventure. They know all the best viewpoints and offer up lots of knowledge about the area, so it was a great learning experience as well.
After we were tired out on the trails, we grabbed a snack and headed down the Tarcoles River for a Crocodile Safari. We'd seen the crocs from the bridge viewpoint above, but it was a cool experience to be on the same level as them and gently float down the river for an hour or so.
The tour cost us $195 USD each and we booked online here. The entire day tour lasts about 6 hours, so water, sunscreen, and bug spray are always great to bring along. And don't forget your driver's license!
9. Half-Day Puntarenas Highlights Tour
If you're short on time or looking for something a little more relaxed, there are still lots of awesome options for you! This Half-Day Puntarenas Highlights Tour is a more chill option for those who want to see the area with smaller groups of less than 15 people. In a private minivan, you'll head South to Puerto Calderas, where you can catch a glimpse of the adorable white-faced Capuchin monkeys!
Up next is the Tarcoles River for a little cruise to see the crocodiles up close and personal, as well as spot some other birds and wildlife that call this area home. Before you get dropped off, the guides will give you a little extra tour of Puntarenas, including the fish market and historical buildings like the church.
The guides are entertaining and really knowledgeable, so it makes for a nice way to meet new people and learn a bit about the area! It costs about $140 USD per person and includes entrance fees and transportation, including pickup and drop-off from various locations around Puntarenas. Bring some extra pocket money for lunch and snacks, though!
You can book this half-day tour online here!
10. Eat seafood at Isla Coco's Bar & Grill
Hanging out in coastal cities has some major perks, and the freshest seafood is definitely number one on the list!
Located nearby the ferry terminal, Isla Coco's Bar & Grill is open Wednesday to Monday from 12 to 10 pm and is our favorite spot to get our fill of seafood in Puntarenas. It's a breezy, casual spot with friendly service, and they get bonus points for having awesome live music on Thursdays and Fridays.
But let's talk about the food! You'll find lots of various options here, from multiple types of ceviche to fresh fish, shrimp, clams, and garlic octopus. Top of our list is the deep-fried snapper, grilled tuna tacos, and the shrimp ceviche served up with green plantain chips – washed down with an ice-cold beer, of course!
Portions are very generous here, and we think it's a pretty good bang for your buck, with most main dishes running between $11 to 18 USD. And don't worry, if there's a non-seafood eater in your party, there are plenty of other options to keep everyone at the table happy!
11. Take a trip out to Waterfall El Encanto
After spending a bit of time on the coast, we decided to head inland to Waterfall El Encanto for a little change of scenery. Located about 28 km (17 miles) from Puntarenas city, and 8.4 km (5 miles) South of Esparza, it's a pretty accessible site and makes for a great day trip or road trip stop.
The falls are open 8 am to 5 pm daily, but it's worth checking for closures before you go, especially if it's during the rainy season or on public holidays. Luckily, we asked the front desk at our hotel who knew it was open. When we arrived, we paid a $3.75 USD per person (2000 Colones) entry fee and walked down ~180 steps to the waterfall. The steps can be slippery and uneven in some spots, so we recommend good shoes here!
At the bottom, you'll find yourself in front of the beautiful Costa Rican waterfall, and you can even walk a little closer to catch the cool breeze off the falls. There are lots of flat rocks and shady spots to sit and hang out, and it's also the perfect location for a little peaceful picnic in the beautiful Costa Rican rainforest.
Related Read: El Canto is just one of many beautiful waterfalls in this country. Read more about the nearby Uvita Waterfall here!
12. Go skydiving
By the end of your trip, you may think you've seen every angle of Puntarenas, but have you seen it while skydiving?!
There's no better way to get that adrenaline pumping, and the team over at Skydive Pura Vida is highly qualified and committed to safety. Their facility is located 45 minutes from Puntarenas city at the airfield in Aranjuez, nearby the NATUWA Wildlife Sanctuary.
When you arrive, you'll check in, read and sign the waivers, and then dive into the details with your instructor. They do tandem skydiving here, which means you'll have an experienced instructor with you every step of the way. On the ground, they'll explain and adjust your equipment, show you the procedures and positions, and give you tips on getting that perfect skydiving pic!
Then you'll hop in a small aircraft for 15 minutes or so. When it's go-time, get ready to take the leap from about 10,000 ft (3,050 m) and experience the thrill of a 30-second freefall! Your instructor will pull the 'chute at around 4000 ft (1,220 m), at which point you can take a breath and enjoy the gentle float back down to the airfield.
They've got some great packages starting from $365 USD per person, including a video, or you can opt for the $440 USD package that takes you a little higher to 12,000 ft (3,660 m). If you're looking for next-level Puntarenas activities, this is definitely the way to go!
Where to Stay in Puntarenas, Costa Rica
If you're visiting this beautiful port town, you'll need to know where to stay! Below are a few of my favorite accommodations in Puntarenas!
Hostel del Pacifico – $
First off, for budget travelers, Hostel del Pacifico is my top choice, and prices start at roughly $30 USD per night. It's location is at the very end of the main road through Puntarenas, minutes from many sights, the beach, and the ferry. It's much nicer than first meets the eye and each room has a private bathroom with shower and air conditioning. There is also a garden, terrace, and you can even get your laundry done here.
Check availability and reserve a room at Hostel del Pacifico here on Booking.com.
Hotel Cayuga – $$
With prices starting at $102 USD per night, Hotel Cayuga is a fantastic value which makes me think prices are only low because it's still a relatively new hotel. It's has exceptionally clean facilities with comfy beds, a private outdoor pool, and strong WiFi and air conditioning. It's located two blocks from the Paseo de los Turistas and in walking distance from the bus station. However, it also comes with free closed-in parking and a tasty hotel restaurant and bar with super friendly staff.
Check availability and reserve a room at Hotel Cayuga here on Booking.com.
Fiesta Resort – $$$
If you can afford more, Fiesta Resort is a top all-inclusive resort in Costa Rica. It's also a beachfront hotel with everything you could ever need at your fingertips. It's located in El Roble, a 15-minute drive from Puntarenas. Prices start at $348 USD and include well…everything! Expect a spa, gym, on-site tennis courts, pools, beach access, and local and international restaurants and bars, and even a theme night at the buffet.
Check availability and reserve a room at Fiesta Resort here on Booking.com.
Getting Around Costa Rica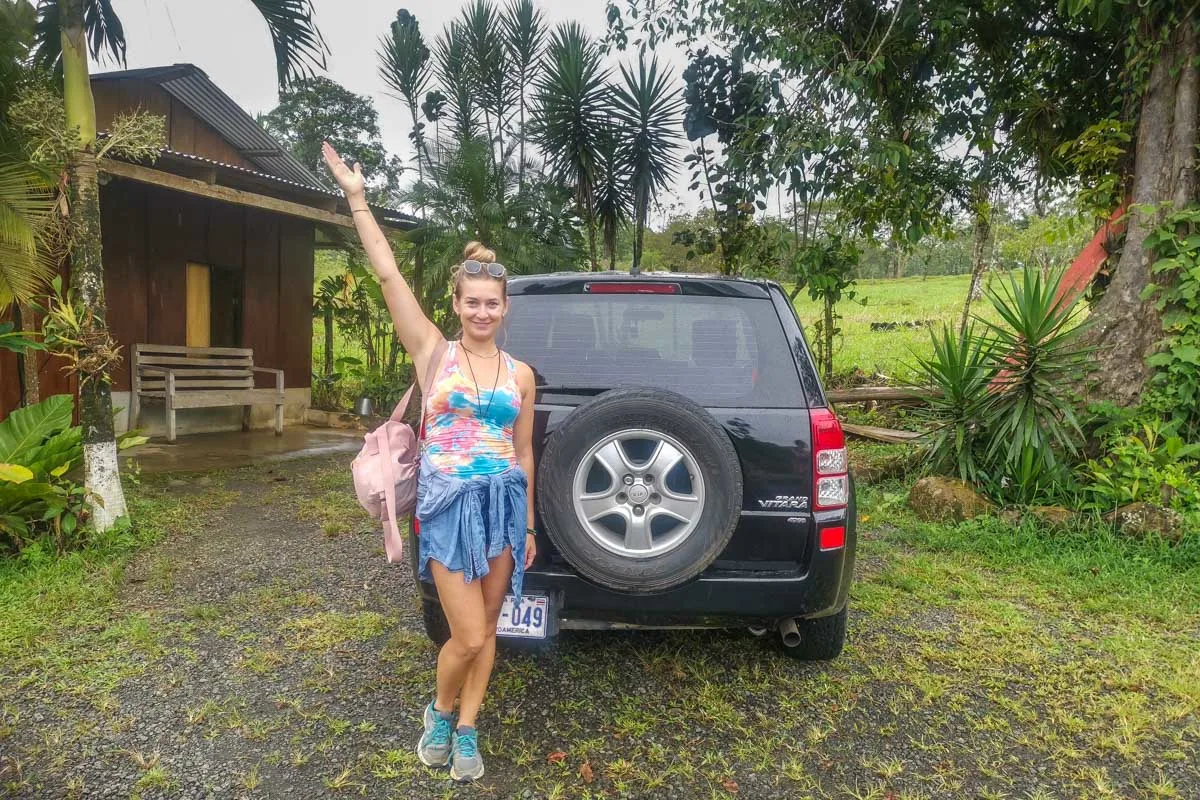 How you choose to get around Costa Rica is one of the biggest decisions you'll make when planning your holiday here! How you do it depends on your budget, travel style, and comfort level.
Renting a Car
Without a doubt, the number one way to explore Costa Rica is in a rental car. We book rental cars on the Discover Cars website as we have had good experiences with them in the past.
One of the things you need to watch for when renting a car in Costa Rica is the mandatory insurance that the government requires you to have. There are a lot of very cheap rentals that don't include this mandatory insurance (TPL) in the original booking price, but there are also ones that do. To avoid additional surprise charges when you pick up your rental car, be sure to rent a car that includes the mandatory insurance when you book.
Thankfully, on Discover Cars it's easy to tell apart the companies that include the mandatory insurance and those that don't. The trick is you can't pick any car on their website. In the picture below, you can see this rental car, with pick up in Jaco, includes the TPL. That means the mandatory insurance is included in the price. Any cover you get above that is extra.
Of course, I still suggest getting the full coverage offered by Discover Cars, which covers you even more.
You can browse cars on Discover Cars here.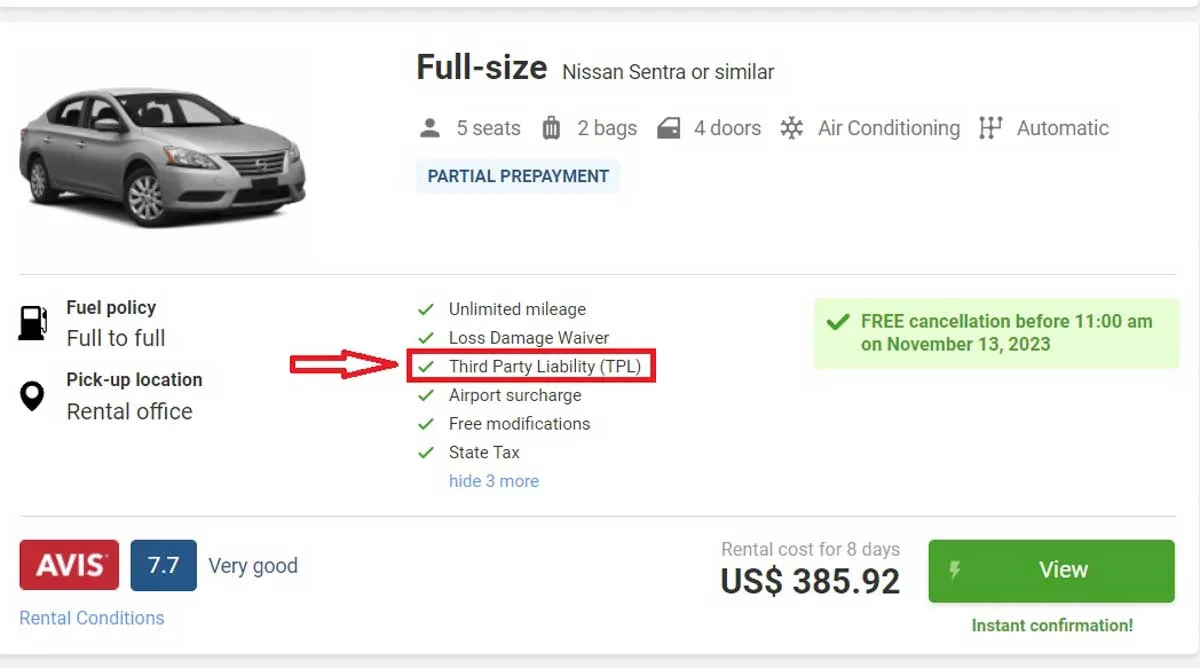 Adobe Rental Rent A Car is another rental company that we most often use in Costa Rica. We love them because Adobe has 15 offices around Costa Rica and delivers door-to-door around their offices at no extra cost. We also are pleased that all of their cars are new. In fact, they are never older than 2 years to the date. They are also the only company to include mandatory insurance and promise no hidden fees. You can get a free quote for a rental car from their website here.
Book Shuttles
If renting a car isn't in your budget, you don't feel comfortable driving in Costa Rica, or you just don't like driving, shuttles are the next best option. There are hundreds of shuttle routes available all over the country, and they are very affordable.
Shuttles in Costa Rica are specifically for tourists and often include pick up and drop off at your selected hotels and airports. The drivers also speak some English, and the vehicles have air conditioning. You'll also be guaranteed a seat when you book a shuttle (which isn't the case with the public bus system.)
To get the best price, use the website Bookaway. They compare all the offers and prices of shuttle companies in Costa Rica so you get the best price! Honestly, we have saved so much money using Bookaway!
You can search for shuttles online on Bookaway here.
Public Bus
Lastly, you can use the public bus system. On short journeys, such as from San Jose to La Fortuna or Uvita to Manuel Antonio, this system is great. However, the longer the journey the more hassle and time spent on a bus. It's undoubtedly best to save the public bus in Costa Rica for short and straightforward trips!
The public buses are definitely the cheapest way to get around Costa Rica, but they are not always very reliable and schedules often change without notice and delays are to be expected. The buses can also be very crowded and hot – so just be prepared!
It's also good to speak some Spanish if you plan on riding the public bus since most drivers and ticket booth operators don't speak English.
Invest in Travel Insurance
Paying out of pocket for trip interruptions or medical treatment will add to what might already be a stressful situation. We always travel with SafetyWing travel medical insurance.
The best part is that it costs only a fraction of what most insurance policies charge, which makes it perfect for digital nomads, long-term travelers (like us), and budget travelers. It only costs $45 USD per 4 weeks!
To start coverage, you must purchase it after leaving your home country. We usually purchase it as soon as we land at the airport.
Since using SafetyWing we've been reimbursed thousands of dollars when we've gotten sick. During the pandemic, they've even gone as far as to pay for our last-minute flights back to Canada from Colombia before the border closed!
You can click here to get a quote and read all the details!
Pura Vida!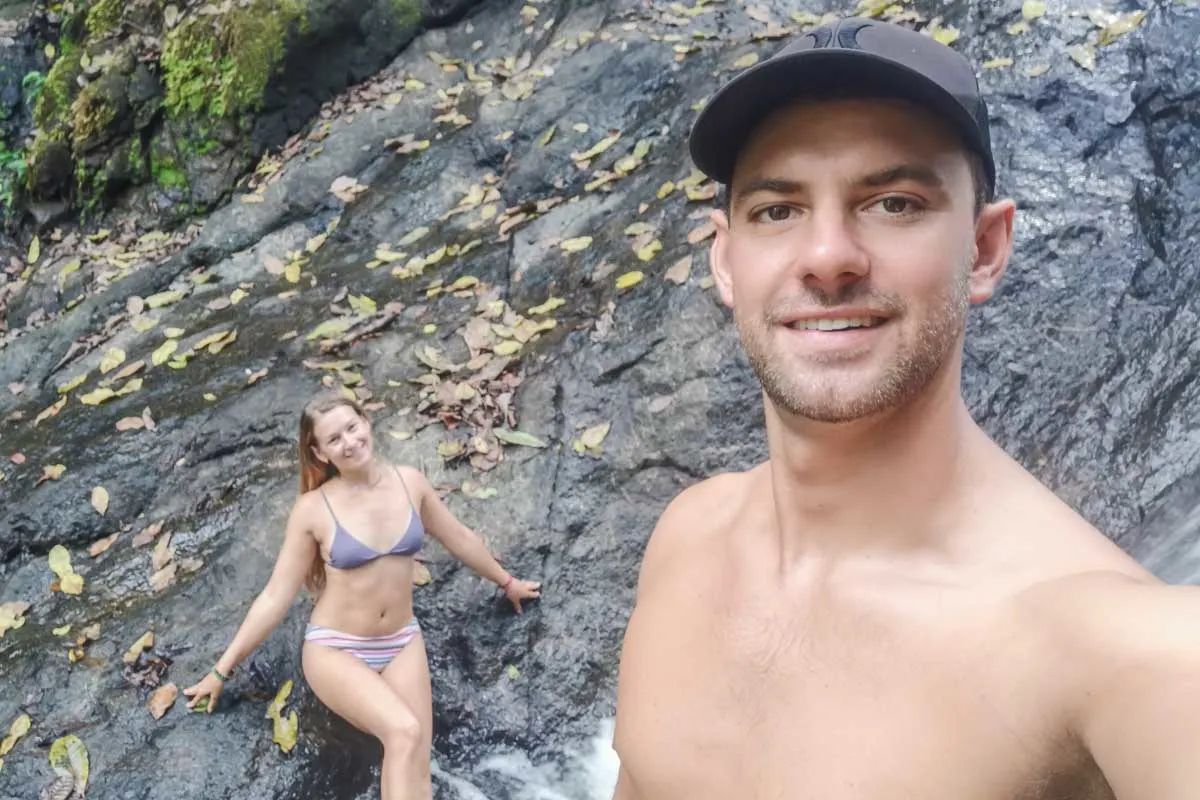 I hope you enjoyed this blog all about the things to do in Puntarenas! This town has lots of relaxing and adventurous activities so if you like beaches, wildlife, or tasty local food, you're sure to have a wonderful time here!
And if you're traveling to other parts of the country, check out my other blogs about Costa Rica. I've lived and traveled all over and love creating helpful guides on where to stay and what to do in each location. The featured blog articles below could be particularly useful if you're visiting areas close to Puntarenas. Thanks for reading!
Best day trips from San Jose, Costa Rica
Best restaurants in San Jose, Costa Rica
Best things to do in Uvita, Costa Rica