Jaco is one of the best areas of Costa Rica to visit, especially if you're an outdoorsy person. There is so much to see and do around this city including some of the best beaches and nature reserves in the country. Whether you want to sail out to tiny islands or get lost in the mountains on dry land, this area of Costa Rica has it for you!
While we love exploring different travel destinations on our own, there are some places where taking a tour is definitely worth it. That's especially true in a place with so many adrenaline-pumping activities as Costa Rica. Ziplining over a waterfall and ATVing through the jungle are must-do's when you're in Jaco and quite frankly, you'll need a tour to experience them.
Some of the other best attractions near Jaco are also only possible on a tour. For example, visiting Tortuga Island requires a boat, as does a cruise in the croc-invested Tarcoles River.
But not all tours are created equal, and while some are well worth your time and money, some are just not – which is why we've written this blog! It outlines the absolute best tours and excursions from Jaco!
Our Top Picks
Crocodile River Safari – The river cruise is super unique because you'll get to see crocodiles in their natural habitat! It's the only of its kind in Costa Rica, so it's definitely worth adding to your to-do list! The tour is also pretty affordable at only $38 USD per person!
Tortuga Island – Tortuga Island is one of our favorite places to visit on a day trip in Costa Rica, and there is this one tour that departs from Jaco. You'll get to snorkel, relax, and enjoy lunch on this tiny tropical island! It;s a full-day tour that costs $113 UDS per person.
The BEST Tours in Jaco, Costa Rica
1. 3-Hour ATV Jungle Waterfall Adventure
This ATV jungle waterfall tour is a great way to get a thrill by speeding on an ATV through rivers, weaving through trees, and hunting for waterfalls. The friendly guides will lead you through the thick jungle trails as you climb the mountain to a stunning viewpoint where there are some pretty impressive views of the ocean and Manuel Antonio National Park.
Our favorite part about this tour was the next bit, where we stopped at two waterfalls (Cascada del Zorro and Pura Vida waterfall). Here we jumped off our ATVs and into the refreshing water – it was the perfect way to cool off! If you're up it, you can even try the 15 ft (4.5 m) cliff jump. We skipped it this time and chose to just relax in the cool water instead.
This tour is suitable for first-time riders and the friendly English-speaking guide will teach you how to drive before you go. With that said, all drivers must be at least 16 years of age with a valid driver's license.
The 3-hour tour costs $95 USD for adult drivers and $35 USD for passengers 4-15 years old, if you ask us it's great value consider how much fun the tour was! Roundtrip transportation is offered for those staying in Jaco. You'll want to bring your GoPro, and bathing suit, and wear closed-toed shoes for this adventure.
Since this is one of the most popular ATV tours in Jaco, you should book online in advance here to secure your spot.
Related Read: The above tour is also one of the best ATV tours in Jaco – read about the the others here!
2. Zip Line + 3hr ATV & Waterfalls Combo Tour
For adventurers looking to spend a great day outdoors, this zipline and ATV combo tour comes highly recommended and is one of the memories from a trip a couple of years ago that we still talk about today! We love that the tour combines two of the most popular adventure activities in Jaco – ATVing and ziplining – plus it includes visiting waterfalls, what more could you ask for really?!
This tour starts by heading up a mountain to gain elevation so you can fly down it. You will soar down a 10 cable zipline circuit amongst the jungle treetops. Once you get to the bottom, you'll climb on some ATVs and explore the jungle floor riding through the mud, weaving along the mountain trails, and jumping in the refreshing waterfall.
In total, this tour lasts about 5 hours and costs $140.40 USD per person. This tour does not include transport and will instead start at Vista Los Sueños Adventure Park, about a 10-minute drive from Jaco. If you don't have a rental car in Costa Rica, it is possible to organize transportation for an additional cost. This is not a tour for young families as there are age restrictions requiring zipliners to be at least 4 years old, and 8 years old to ride the ATV and all passengers must be under 260 lbs (118 kg).
You can read about all the details of this tour and book online here!
3. Surf Lessons with Pro Team in Jacó
If you've always wanted to try surfing, there is no better place to learn than in Costa Rica. Surfing in Costa Rica is extremely popular, and Jaco Beach is one of the best surf beaches, especially for beginners!
This surf lesson is offered to all skill levels whether it's your first time on a board, or are looking to brush up on your skills. The instructors are "pros" so they are guaranteed to teach you a thing or two. The instructors are also incredibly friendly and offer a lot of experience which will make you feel comfortable in the water.
The 2-hour surf lessons costs only $59 USD per surfer and includes round-trip transportation from Jaco. You can choose between a morning or afternoon surf lesson. All surfing gear is provided and there are even photographers available to take photos of you conquering the waves!
You can book your surf lesson online here!
Why We Book Tours with Viator
Viator is a trusted online booking system for tours around the world! We almost always book our tours using Viator for a couple of reasons:
Free cancellation on most tours – Most of the tours on Viator allow you to cancel and get a full refund up to 24 hours in advance. This is handy in case plans change, or if booking an outdoor activity, the weather forecast is looking grim.
Reserve now and pay later – You can secure your spot on some of the most popular tours well in advance and not pay until closer to the day of the tour.
Pay in your chosen currency – Avoid costly international transaction fees by choosing to pay in your home currency.
Peace of mind – When booking with tour operators you find in person on the street or in small booking offices, you are often promised one thing and given another. This online platform holds tour operators accountable with a written description of inclusions as well as the opportunity for customers to leave reviews.
Check out the Viator website here!
4. Manuel Antonio National Park Day Trip from Jaco
Manuel Antonio National Park is one of the most beautiful protected areas in the country and is known to be a haven for jungle life. If spending the day marveling at all the biodiversity this beautiful country has to offer sounds good to you, this is a must-do tour!
A truly wild experience, this area is home to sloths, monkeys, coatis, many different bird species, and other wildlife like frogs, crocodiles, snakes, and iguanas. The jungle runs right into the beach here, so you can even swim in the calm bays! There's a reason why visiting this national park is considered one of the very best things to do in Costa Rica.
Now, we feel the need to highlight why a tour to Manuel Antonio National Park is a good idea. First of all, the park is located over an hour's drive from Jaco and a tour includes transport. Getting to the park without your own wheels and without a tour would be very difficult.
On top of that, having a guide in the park is super handy for navigating the trails and spotting all the best wildlife. Your guide is a pro when it comes to finding hard-to-spot animals (if you've ever tried to see a sloth in the wild you'll know that it is very difficult and often comes with a sore neck from staring up at the trees for so long!) Your guide will also tell you all about the plant and wildlife around you – it's super interesting!
The full-day tour costs $110.24 USD per person with kids 6-12 years costing $71.76 USD each. This is an all-inclusive style trip with all park fees, lunch served with an ocean view, and transportation from Jaco included in the price. It's really one of the best excursions in Jaco and one you should consider if visiting Manuel Antonio National Park isn't already part of your travel plans.
You can book your day trip from Jaco to Manuel Antonio National Park online here!
Note: Next to the national park is a small town with the same name, Manuel Antonio. There are lots of nice hotels and places to stay in Manuel Antonio, so if you want, you can visit this area for a couple of nights instead of doing a day trip. There are plenty of other fun things to do in the Manuel Antonio area too including some top-rated restaurants.
Related Read: If you love animals, be sure to visit one of the best wildlife rescue centers in Costa Rica!
5. Day Tour to Playa Fantasia on Sealounge Catamaran
Jump aboard a stunning 50 ft (15.25 m) catamaran and prepare to have a luxurious beach day on this epic tour from Jaco! Your tour will start and end with a beautiful 40-minute cruise through the ocean as you head to a private beach to spend your day.
Playa Fantasia is a secluded beach oasis where you will spend your day like a VIP sipping cocktails, enjoying watersports, and relaxing on the beach. The best part of this beach is how secluded it is, you will feel a million miles away with your only neighbors being the birds and wildlife in the area!
This 4-hour tour costs $137.69 USD per person with children 4-9 years old costing $114.50 and babies under 3 being free. The tour includes everything you need to have fun in the water including snorkel equipment, surfboards, boogie boards, and paddle boards. Choose between lazing in a hammock or a beach chair as you take full advantage of the open bar. You will then be served a delicious BBQ lunch with lots of fresh fruits and vegetables.
You can book yourself a spot on this catamaran tour from Jaco online here!
6. Full-day Jaco Jungle Adventure
If you're wanting an adventurous do it all style day, this tour guarantees a fun action-packed day! You'll spend the day in the jungle horseback riding, ATVing through the forest, ziplining amongst the treetops, and even rappelling down a waterfall. The guides are friendly and talk you through every experience, making this a great option even if you've never tried some of these activities.
This 7-hour adventure tour costs $195 USD and has 3\three departure times depending on how early you're looking to start. If you're booking for a group of 2 or more, transportation from Jaco and the surrounding area is included. Lunch and all necessary equipment is also included in this activity.
I highly recommend dressing appropriately and bringing a change of clothes for when you're wet from rappelling as you will want water shoes, shorts, extra socks, and closed-toed shoes.
You can book this full-day tour online here!
7. Tortuga Island Adventure tour
Tortuga Island is a remote island that doesn't allow any local residents, except the wildlife, making it feel like an untouched paradise! We booked a Tortuga Island tour when we went to Costa Rica and the island is absolutely stunning with untouched white sandy beaches and some amazing snorkeling.
This full-day adventure tour starts on the land in Jaco as you travel to the port in Puntarenas with a stop at Tarcoles River to see some crocodiles. You will then climb aboard a boat and set sail in the Gulf of Nicoya visiting Negritos Island to see the spider monkeys and hopefully dolphins before heading to Tortuga Island.
On the island, you'll have the opportunity to snorkel off the coast of the island, do a variety of watersports, and enjoy lunch on the beach. When we were there, we spent heaps of time snorkeling as there were lots of fish to see! We also played some beach volleyball and had one (or three!) Coco Locos!
This full-day tour requires a minimum of 4 adults per booking costing $113 USD each. Children 3 – 11 years old cost $90.78 USD and babies 2 and under are free. The tour price includes snorkel equipment, lunch, snacks, and nonalcoholic drinks. It does not include transportation from Jaco to Puntarenas but this can be added for an extra $25 USD per person.
You can book this fantastic Tortuga Island Tour online here!
Related Read: Visiting Tortuga Island is also one of the best things to do in Montezuma and Santa Teresa!
8. Jaco Beach Horseback Riding
In true Costa Rican style, this horseback riding tour will take you through different terrain including passing rice plantations, along jungle trails, through rivers, and onto the beach. Why walk when you can ride – am I right?!
Be sure to keep your eyes peeled when riding through the jungle as it is not uncommon to see monkeys and sloths as you travel through.
One of the things we like about this tour is how helpful the guides are. They'll make sure you are comfortable no matter what your comfort and skill level is with horses, and they'll tailor the tour to your level. Also, the horses are healthy and well cared for!
You can choose between multiple departure times with this horseback riding experience but I highly recommend either booking the early 7 am slot or the latest time when the beach is quieter and you can catch either the sunrise or sunset. The horseback tour lasts about 2 hours and costs $69.90 USD per person and includes hotel pick-up within Jaco.
You can check availability and book your horseback experience in Jaco online here!
9. Amazing Mega Zipline
If you love ziplining, this Mega Zipline tour will have you flying across a whopping 25 different ziplines! You'll spend around 3.5 hours amongst the treetops taking in view of the ocean, waterfalls, and mountains. Yes, you read that right – waterfalls! This zipline adventure will have you soaring over 11 waterfalls and even rappelling and swinging your way across canyons – this is definitely one of the best zipline tours in Jaco!
Be sure to bring your bathing suit as there is an opportunity to swim along the way. You will be walking through a thick jungle forest too so I recommend dressing appropriately including wearing good shoes.
The tour ranges in price from $109 USD to $269 USD per person depending on whether you are looking for transportation and where from. All zipliners must be at least 7 years old and weigh less than 280 lbs (127 kg). A delicious Costa Rican lunch and bottled water are included in the price.
You check out all the details and book your zipline tour online here!
10. Jungle Crocodile Safari and Bird Watching Tour
Crorocidle are such amazing creatures. Seeing them in person is an experience you're sure not to forget. Luckily, near Jaco is a river where you can spot wild crocs!
This jungle safari includes a boat cruise on the Tarcoles River where you are guaranteed to see some huge crocodiles (from a safe distance, of course!) Bird lovers will enjoy this tour as the area is home to between 50-100 different species of birds. Your guides will help in spotting all of the animals so you don;t miss a thing!
This is actually the only company that offers a cruise on the river, most other crocodile tours from Jaco only show you the crocs from the well-known "crocodile bridge" or land.
Choose between multiple start times for this crocodile safari tour costing only $38 USD for adults, $30 USD for kids 4-12 years old, and free for children 3 and under. This is also one of the cheaper things to do in Jaco.
Transportation is not included and you will instead meet in Tarcoles, about a 30-minute drive north of Jaco – either drive yourself or take a taxi or local bus. Be sure to bring your camera along as this is a great spot for wildlife photography!
You can read all the amazing reviews and book this river safari online here!
11. Savegre River Rafting Class II-III
If you're looking for a thrill on the water, going whitewater rafting in Costa Rica is a great way to get it! This full-day river rafting experience will take you down class II and class III rapids as you navigate down the Savegre River.
In typical Costa Rican style, you should keep your eyes peeled for all the wildlife you will see along the way including monkeys, iguanas, and many different species of birds including toucans and herons.
This 8-hour white water rafting tour costs $130 USD per person for adults and $115 USD per person for kids aged 8 – 17 years old. The price includes breakfast, lunch, and round trip transportation from Jaco, Herradura, and Esterillos. A minimum of 2 people are required per booking and a maximum of 8 people per group.
I highly recommend bringing along a change of clothes as the spray from the water is guaranteed to get get you wet!
You can book this very popular Jaco tour online here!
12. Arenal Volcano, La Fortuna Waterfall, Hot Springs Combo Tour
It might be time to escape the beach and head inland towards La Fortuna, where some of the best volcanoes and hot springs in the country are located! This full-day tour includes all of that more, so it's a great change of scenery from the beach towns like Jaco.
You may have heard of Arenal Volcano, which last erupted in 2010, and is one of the most popular and beautiful sights in the country. On this tour, you'll visit Arenal Volcano National Park where you'll hike the lava trails for an epic view of the volcano!
This tour also includes a visit to one of the best waterfalls in the country, the towering La Fortuna Waterfall! Swim at the base of the waterfall or just enjoy the views from the viewing platforms.
End your day relaxing in Paradise Hot Springs's mineral waters at the base of Arenal Volcano.
This combo tour costs $185 USD and accommodates groups of 4-15 people. Both lunch and dinner are included in this price as well as round-trip transportation from Jaco. This is a full day tour (approximately 14 hours long), so be sure to pack appropriately including a bathing suit, change of clothes, and sunscreen.
I think it's also important to note that this is somewhat of an active tour. You'll walk a few different trails in the national park, and there are over 500 stairs you'll have to climb down to get to La Fortuna Waterfall. The climb down isn't an issue for most people, it's getting back up that's the struggle. Trust me though, it's worth it!
You can book this combo tour to La Fortuna online here!
Related Read: Another volcano worth visiting in Costa Rica is Poas Volcano with its bright blue crater lake – read our complete guide!
13. Aerial Tram and Zipline Tour
This zipline and tram combo tour will take you through a private reserve to give you a stunning view of the Costa Rican rainforest. You will start on a stunning 1-hour tram ride through the forest treetops where you can look for all the animals native to this area including monkeys, sloths, toucans, and many more.
Once at the top, you will then start your ziplining journey, getting a thrill as you soar amongst the jungle canopy on a series of 10 cable ziplines of varying lengths. The guides are great here and will make you feel comfortable on the ziplines making it an excellent experience for all skill levels.
Once back on the forest floor, you will be guided through the reserve while learning about the area. There are two exhibits in this reserve, a snake and reptile exhibit and a medicinal botanical garden which you will be guided through.
This tour costs $85.50 USD for adults and $51 USD for kids 5-12 years old. This price includes transportation from hotels in Jaco.
You can book this Zipline and Tram tour online here!
14. Canyoning tour
Canyoning down a waterfall in Costa Rica is one of our top must-do tours in the country! Whether you've done it before or are brand new to the experience, it's a great way to get your heart pumping and splash in a waterfall.
This half-day tour through the rainforest will start with an easy 20-minute hike into the jungle where your guide teaches you about the forest and you will likely see different forest animals like monkeys and toucans.
You will then jump on a zipline flying through the air to a platform at the top of the 300 ft (91 m) waterfall where you will begin your rappel. You will get your harness on and get ready to rappel down 4 different waterfalls ranging from 70-90 ft (21-27 m). After navigating over the river, you'll then take on your last ziplines, one of which is an impressive 2,000 ft (610 m) in length!
The guides on this tour are very professional and will make sure you are comfortable whether you're an experienced adventurer or this is your first time rappelling down a waterfall.
You will need at least 2 people per booking and the cost is $106.67 USD per person. The tour includes transportation from their tour office in central Jaco to the base camp for this experience, which is about a 15-minute drive.
You can book your canyoning adventure in Jaco online here!
15. Jaco Birdwatching and Photography
Costa Rica is home to more than 800 different species of birds, making it one of the best places for bird lovers to visit.
This birdwatching tour is the perfect tour for anybody wanting to see unique birdlife! You'll spend about 3 hours walking the easy trails of Carara National Park looking for different species of birds. On average, you will see between 20-40 species on your journey and have plenty of time to enjoy them and take photos.
The birds in Costa Rica are known to be beautiful and colorful making them a dream to photograph.
This bird watching tour costs $101.54 USD and has two start times. I highly recommend the early morning tour as this is when the birds are most active. The tour includes transportation from your hotel to Carara National Park and back again. The guides know the area quite well and do a great job of explaining the climate and pointing out all the different birds throughout.
You can book the tour easily online here!
Related Read: While in the area, be sure to visit some of the tasiest restaurants in Jaco!
Where to Stay in Jaco, Costa Rica
As you can imagine, Jaco is a tourist city filled with beautiful hotels, holiday apartments, and even backpacker hostels. In fact, the hardest part about finding a great place to stay in Jaco is choosing from all the options – trust me, I've been there before!
For budget travelers and backpackers, I love Room2Board Hostel. The hostel is on the pricier side of budget hostels, but it has a beautiful pool, surf camp, yoga, and modern facilities. The atmosphere is also great for meeting other travelers. You can book Room2Board on HostelWorld or Booking.com.
If your backpacking days are over and you can spend a little more, Apartotel Flamboyant is a top choice in the medium budget range. The hotel is centrally located, and you can see the beach from the pool. The rooms are a more typical Costa Rica design, but it's one of the best for location and amenities.
Luxury travelers have tons of great options depending on what you're looking for. If you don't mind staying out of town, Los Sueños Marriott Ocean & Golf Resort is beautiful. This beachside resort is like something out of a fairytale. Located on Herradura Beach, the resort grounds include a huge pool, restaurant, fitness center, and spa.
Monte Carlo Luxury Condominiums would be my go-to for those who need to be close to the city. This small hotel is a little slice of paradise in Jaco that takes you far away from the busy streets while being only steps away. They specialize in apartments with full kitchens and multiple rooms, so it's also great for families.
For more info, check out our where to stay in Jaco guide.
Getting Around Jaco, Costa Rica
Jaco is a pretty big city, so getting around on foot isn't always the most ideal. If you already have a rental car, then great, you're all set! If not, you'll need to know how to get around this city to explore all of the fun activities and attractions.
If you're up for it, rent a scooter, motorbike, or ATV. A scooter is a good budget-friendly option as you can get them for as little as $45 USD per day – cheaper than taking multiple taxis. ATVs are obviously more fun, they cost around $180 USD per day. A motorbike will cost you about $75 per day, but keep in mind, you must have a motorbike license to rent it. Both a scooter and ATV only require a normal driver's license.
We rented from AXR when we were in Jaco and they were a good company, professional with good quality scooters and ATVs.
If you don't want to rent any vehicle, you can easily take taxis and Ubers around Jaco. For shorter trips in town and nearby, they are a good option. However, they can get pretty pricey for longer trips like out to Crocodile Bridge. For these types of day trips, it's best to book an organized tour.
There is also a public bus that operates to select areas in and around Jaco, however, the schedule isn't widely known and can change frequently.
Related Read: Heading to La Fortuna? Learn about the free and cheap things to do in La Fortuna before you go!
Getting Around Costa Rica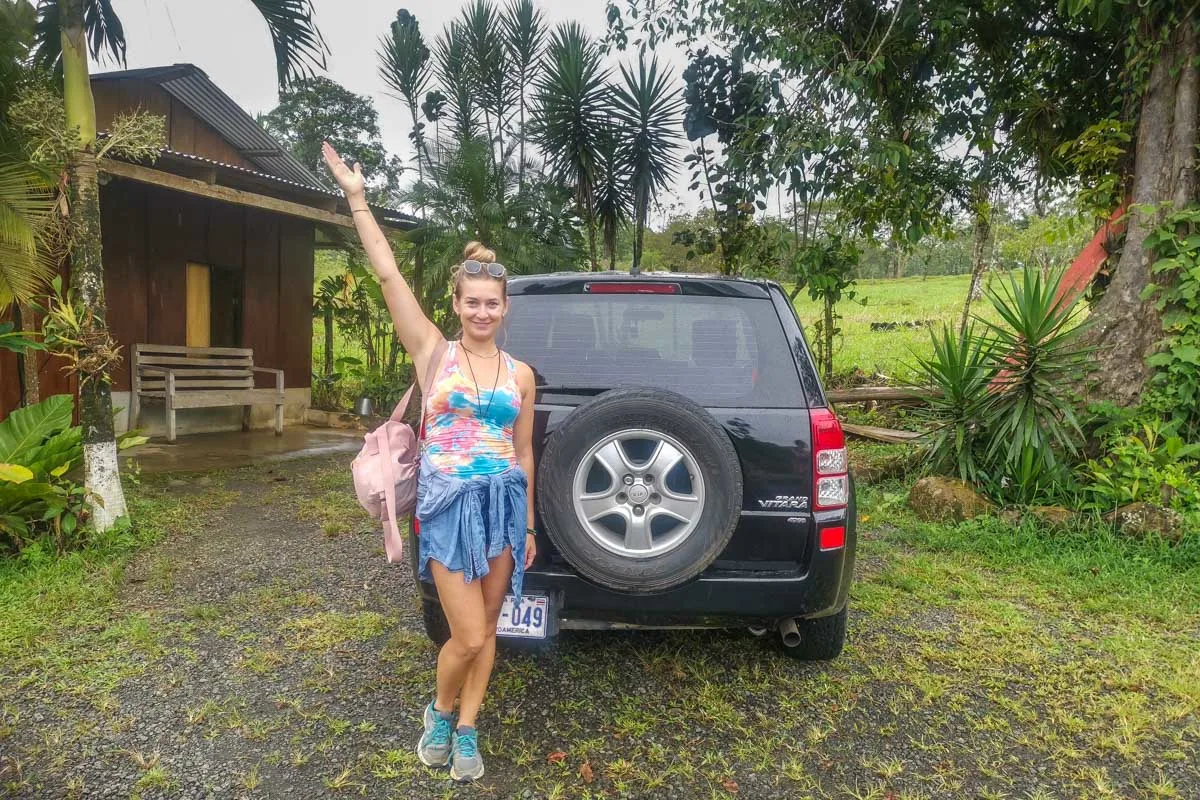 How you choose to get around Costa Rica is one of the biggest decisions you'll make when planning your holiday here! How you do it depends on your budget, travel style, and comfort level.
Renting a Car
Without a doubt, the number one way to explore Costa Rica is in a rental car. We book rental cars on the Discover Cars website as we have had good experiences with them in the past.
One of the things you need to watch for when renting a car in Costa Rica is the mandatory insurance that the government requires you to have. There are a lot of very cheap rentals that don't include this mandatory insurance (TPL) in the original booking price, but there are also ones that do. To avoid additional surprise charges when you pick up your rental car, be sure to rent a car that includes the mandatory insurance when you book.
Thankfully, on Discover Cars it's easy to tell apart the companies that include the mandatory insurance and those that don't. The trick is you can't pick any car on their website. In the picture below, you can see this rental car, with pick up in Jaco, includes the TPL. That means the mandatory insurance is included in the price. Any cover you get above that is extra.
Of course, I still suggest getting the full coverage offered by Discover Cars, which covers you even more.
You can browse cars on Discover Cars here.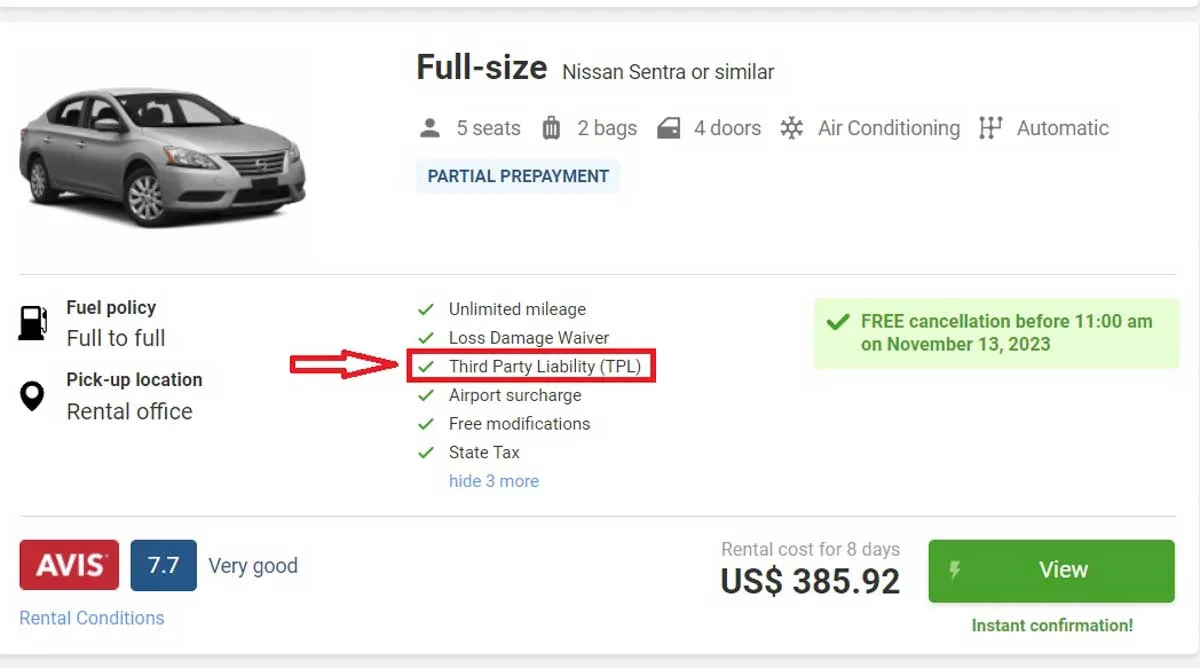 Book Shuttles
If renting a car isn't in your budget, you don't feel comfortable driving in Costa Rica, or you just don't like driving, shuttles are the next best option. There are hundreds of shuttle routes available all over the country, and they are very affordable.
Shuttles in Costa Rica are specifically for tourists and often include pick up and drop off at your selected hotels and airports. The drivers also speak some English, and the vehicles have air conditioning. You'll also be guaranteed a seat when you book a shuttle (which isn't the case with the public bus system.)
To get the best price, use the website Bookaway. They compare all the offers and prices of shuttle companies in Costa Rica so you get the best price! Honestly, we have saved so much money using Bookaway!
You can search for shuttles online on Bookaway here.
Public Bus
Lastly, you can use the public bus system. On short journeys, such as from San Jose to La Fortuna or Uvita to Manuel Antonio, this system is great. However, the longer the journey the more hassle and time spent on a bus. It's undoubtedly best to save the public bus in Costa Rica for short and straightforward trips!
The public buses are definitely the cheapest way to get around Costa Rica, but they are not always very reliable and schedules often change without notice and delays are to be expected. The buses can also be very crowded and hot – so just be prepared!
It's also good to speak some Spanish if you plan on riding the public bus since most drivers and ticket booth operators don't speak English.
Invest in Travel Insurance
Paying out of pocket for trip interruptions or medical treatment will add to what might already be a stressful situation. Not to worry, SafetyWing is here to help!
This affordable travel and medical insurance is perfect for digital nomads, long-term travelers, and remote workers. The best part is that it only costs $45 USD per 4 weeks.
To start coverage you must purchase it after leaving your home country. We usually purchase it as soon as we land at the airport.
Since using SafetyWing we've been reimbursed thousands of dollars when we've gotten sick. During the pandemic, they've even gone as far as to pay for our last-minute flights back to Canada before the border closed!
Pura Vida!
Jaco, Costa Rica is known for its beauty and outdoorsy lifestyle. For outdoor adventurers like us, it is such a great place to explore and get out in nature. Jaco offers everything from great surfing and lazy island hopping to heart pumping ziplines and ATV rides through the mountains.
I hope this list of the best tours in Jaco helps you to plan your dream vacation to Costa Rica. Be sure to check out some of our other blogs including:
What you NEED to know about Whale Watching in Costa Rica