Santa Teresa is a small town located on the tip of the Nicoya Peninsula in the northern part of Costa Rica. It's a remote area with plenty to see and do. In recent years, Santa Teresa has become the perfect location for a holiday getaway as you get to enjoy the lush mountains, exotic flora and fauna, and the white sandy beaches along the Pacific Ocean.
On top of all of that, Santa Teresa has become a foodie destination. There are tons of restaurants in Santa Teresa spread out across the beach shores and the mainland.
The town has numerous eateries, so you'll be spoilt for choice when it comes to places to eat in Santa Teresa. There are literally restaurants on every corner, and you'll find everything from delicious sodas (local restaurants) to fine dining options.
The only problem is that with so many restaurants it'll make deciding where to eat somewhat challenging.
Luckily, we've spent plenty of time in Santa Teresa and eaten at many different restaurants. Based on our personal experience (and recommendations from friends who live there) we've compiled this blog of the absolute best restaurants in Santa Teresa. We've broken it down by budget and cuisine style so you'll definitely find a restaurant (or two) that's perfect for what you're looking for.
The BEST Restaurants in Santa Teresa
1. Satori Terrace Sushi Bar – Best sushi
Location: Near the Soccer Field in Santa Teresa
Price range: $12 USD for one sushi rools, combo deals are available
Come here for: Sushi, Seafood, Asian cuisines
Takes reservations: Yes
Located on the roadside in the center of town, Satori Terrace is hard to miss thanks to the buzzing vibe complete with live music (guitar and violin.) The restaurant offers the best sushi in Santa Teresa! It's beautiful in all ways; the food, the drinks, the ambiance, the live music, everything about this place is incredible.
All dishes are freshly made. You have to experience their Sushi to grasp what I am talking about.
Try some of their tasty dishes like the shrimp tempura, tuna rolls, fresh rainbow rolls, and so much more. The last time we visited, we opted for the Sushi combos – 24 pieces for 2, which included some eccentric rainbow rolls (sautéed shrimp, cucumbers, avocado, topped with tuna and salmon) – the sushi melts in your mouth!
We contemplated another round of 24 but figured we'd have no space for dessert, and I wanted some… so we had a banana flambé which had more than enough tasty cashews, peanuts, and ice cream.
Overall come here for fresh seafood and sushi, soothing music in the company of an equally great host, who's also the manager, and the friendly waiting staff. We had so much fun!
Satori Terrace Sushi Bar is open from 11 am to 10 pm and you can view their menu here.
2. Restaurante Al Chile Viola – Best Italian
Location: Near Supermarket La Hacienda in Santa Teresa
Price range: $16-25 USD
Come here for: Italian, Seafood, Mediterranean
Takes reservations: Yes
It's hard to imagine that you can find an international chef in a remote town, that is, Santa Teresa. However, if you love Italian food as much as I do, you should visit Restaurante Al Chile Viola and see chef Emiliano. He is a classically trained chef with a high level of cuisine experience, perfectly merging creative food and gourmet food to bring out the best Italian cuisines.
Come here for incredible Italian dishes; I am talking about beef carpaccio, grilled octopus with roasted pumpkin, Caprese salad, and wood-fired pizza. If you're one to try the wild side of things, have a go at the bull's balls ravioli and let us know how it was!
Try the tuna tartare, it's so fresh and a perfect starter to share. For the main course, try the duck, it's so tender, well-seasoned, and tasty that it just rolls in your mouth. If you love pasta, they're all delicious!
They also serve highly-rated pizzas and they are considered one of their highlights. However, I can't go past more unique dishes when eating at such a highly rated restaurant.
As for Emiliano, he only uses high-quality ingredients, some local and others imported from Italy. We're not sure how he gets them to this remote surf town (the post in Costa Rica can be slow), but we are thankful he does. Every dish feels homely, plentiful, and provokes your senses to the core.
Chef Emiliano and his wife Luz provide a spectacular foodie experience. They're warm and friendly. The service was terrific, and the atmosphere delightful as always. In my opinion, this is the BEST restaurant in Santa Teresa, (although, I am always biased towards Italian food!)
Al Chile Viola is open every day from 6 pm to 9:30 pm except Sundays.
Related read: Love Italian food? Then you'll want to check out the best restaurants in Tamarindo.
3. La Cevicheria – Best fresh seafood
Location: Central Santa Teresa
Price range: Around $15 USD for a large cerviche serving
Come here for: Latin, Seafood and Ceviche, Central American cuisines
Takes reservations: yes
La Cevicheria is a simple seafood restaurant located on the main road – with modest furniture and minimal décor. The owner is friendly and helpful and makes some heavenly Ceviche. If you're unsure which Ceviche to pick from the menu, you can have a custom-made one based on what you like. How about that!
Try the Mexichino Ceviche with red snapper and octopus with fried plantains. The flavors were perfectly balanced, and the octopus texture was impeccable too. It's also at the top of the menu so you know it's one of their favorites!
We also had the mixed tropical combined with the fried shrimp and Patacones dipped in a wicked sauce. It truly exceeded our expectations! The fish was fresh and the flavor was explosive. We got sizeable portions for the price too, so come hungry.
Another thing that we loved about this restaurant was how they carefully selected environmentally-friendly bottled drinks to sell, being that they're so close to the ocean.
Overall, we had a perfect time at La Cevicheria. We loved the fresh seafood and the warm, gracious service.
La Cevicheria is open from 12 pm to 10 pm except for Sundays. You can view their menu here.
4. The Bakery – Best breakfast
Location: Near Franks, Playa Carmen in Santa Teresa
Price range: Around $10 USD for breakfast
Come here for: French American fusion
Takes reservations: yes
Hidden to the south of Santa Teresa is this busy, bustling cafe serving pastries as well as fresh coffee, fresh juices, tea lattes, brunch meals, and gluten-free sandwiches.
If you're visiting Playa Carmen, The Bakery is worth your time. The morning hours are a bit crowded, so you may want to visit from mid-morning to noon. Come here for comfort, sweetness, or a tasty meal. And yes, they brew good coffee too.
The Bakery is known for its freshly baked bread, cakes, soft cheesy croissants, pastries, coffee, and healthy drinks. All are made with love and as fresh as they can get.
We love the yummy London Fog, chocolate croissants, and tropical fruit fusion smoothies. They have a unique selection of Middle East/European food choices too, from shakshuka shawarmas to the eggstravaganza with salmon, avocado toast, and croissants with tasty eggs.
The vegan options include spaghetti, avocado toast with mushroom, veggie sandwiches, and so much more. The gluten-free specials include radish, bagels, Panini with grilled chicken, and grilled eggplant. All of their meals look and taste Insta-worthy!
There's plenty of outdoor seating with a splendid view of the horizon. Overall, The Bakery is a lovely spot with great food and drinks, and we loved it! Without a doubt, it's the best breakfast restaurant in Santa Teresa!
The Bakery is open from 7 am to 10 pm every day and you can view their menu here.
5. Sunset Lounge (Vista del Olas) – Best view
Location: Hotel Vista de Olas in the foothills of Santa Teresa
Price range: $30
Come here for: International cuisines
Takes reservations: yes
Sunset lounge is a magnificent spot with breathtaking ambiance, interior décor, and a splendid view of the surrounding landscapes and sunsets. In addition, the restaurant boasts of "capturing the essence of Costa Rica's abundance," with organic grown veggies, herbs, and fruits from their farm.
The cuisines include the delish tuna tartar with avocado and pineapple, fresh Ceviche, and a range of seasoned meats – beef loins, chicken, and pork.
They also offer a lunch and bar menu including healthy fresh salads, smoothies, burgers and fries, as well as local dishes like traditional rice with shrimp or chicken.
Try the fantastic cocktails served at the bar carefully prepped with fresh fruits locally brewed beer, or pick from a wide-ranging list of international wine options.
Everything about The Sunset Lounge is pure bliss. Excellent customer service, pleasant atmosphere, and fantastic food. However, be sure to come for the view and maybe even a day in their infinity pool! This place isn't just about the food but the view as well! Personally, I recommend visiting just before sunset to watch the sky light up over the ocean while you sip a cocktail.
Sunset Lounge is open for breakfast from 7:30 am to 10 am, for lunch from 12 pm to 3 pm, and lunch from 6 pm to 10 pm.
6. El Tercer Ojo – Best Caribbean and soul food
Location: Next to Hotel Rustico, Santa Teresa
Price range: $10 – $13 USD for a main
Come here for: seafood, local cuisine, Caribbean cuisine
Takes reservations: Yes
This food joint is your best bet for mind-blowing Caribbean flavors and fresh cocktails! El Tercer Ojo has a carefully selected menu for each day. I'm talking about fresh corn tortillas with well-seasoned fish, the fantastic Caribbean bowl, and shredded beef tacos – so delish!
We reserved a table for four and visited this gem of a restaurant with friends. We all scrolled through the menu in a matter of minutes. We all had different dietary expectations, and they did not disappoint. I had one of the first dishes on the menu (as always), I had to try their Ceviche in coconut milk, it was so delicious I can't quite explain it. You've got to try this, it trumps regular ceviche.
Okay, moving on, my fiancé picked a Caribbean bowl, and our friends got a combination of shredded beef tacos, the confrijo, and a bowl of chicken nuggets with tropical mixed veggies, with fried plantains. All looked amazing and came with plenty of thumbs up!
Our main dishes were so good we opted for some beautifully crafted cocktails instead of dessert.
Overall, El Tercer Ojo is a relaxing and trendy spot perfect for all occasions, whether a quiet late-night with your beau or a chatty experience with family or friends, over tasty margaritas. They often have live music so be sure to check their Facebook page before if that sounds like your ideal night.
El Tercer Ojo is open every day from 8 am to 11 pm and you can view their menu here.
7. The Somos Cafe – Best Brunch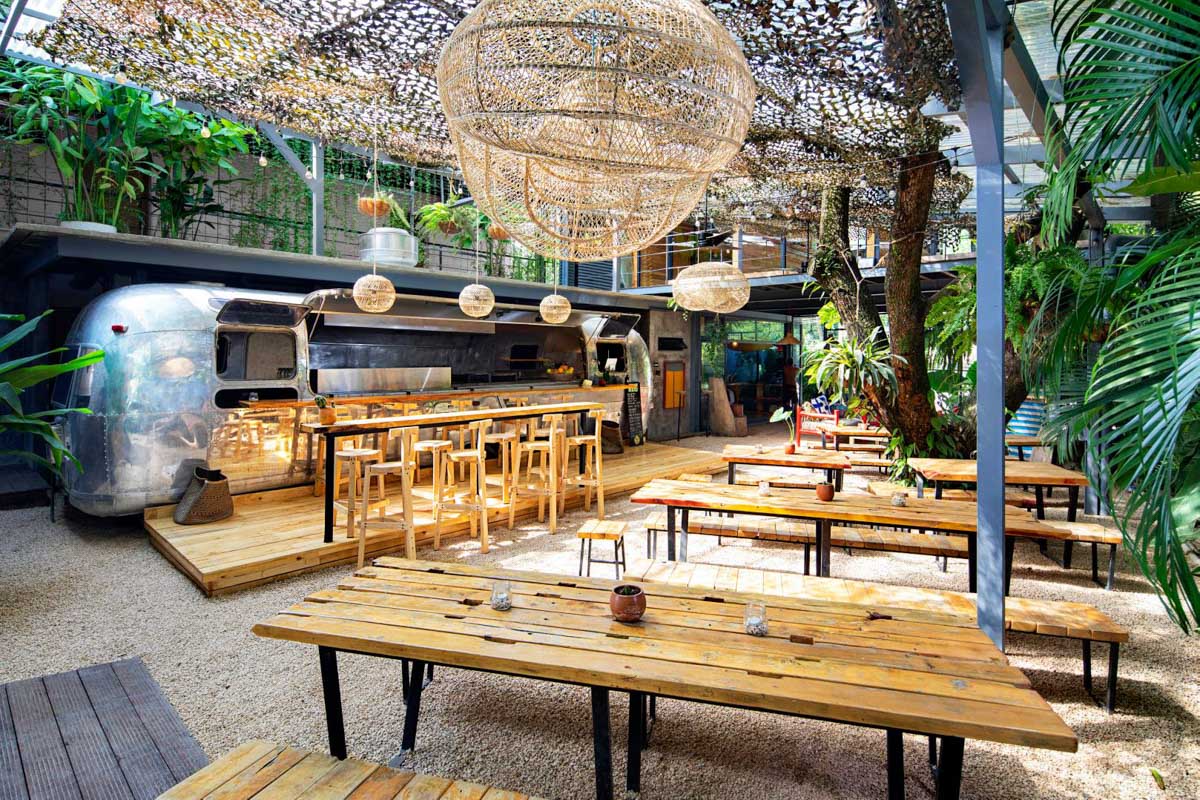 Location: Calle Cabana in Santa Teresa
Price range: $10 – $20 USD for a main
Come here for: Healthy brunch in a fun atmosphere
Takes reservations: no
The Somos Cafe is my favorite brunch place in Santa Teresa. The open-air dining, delicious food, and friendly staff make the atmosphere feel like brunch should be – fun!
The Somos Cafe is famous for its static silver trailer converted into a kitchen and modern bar. Legend has it that it traveled worldwide and finally parked at this strategic point.
I come to Somos for a lively meal with friends that includes fresh food with locally sourced produce, meats, and fish. They also have a variety of homemade pastries, bread, and desserts inspired by the Northern Hemisphere, focusing on fresh and healing dishes, compiled by three chefs.
Sample out their line of fresh beverages ranging from juices, sodas, and syrups, all locally made with organic herbs, fruits, and roots to replenish your energy after a long adventurous morning at the beach or from long treks in the reserves.
Try the Vietnamese coconut coffee and the freshly squeezed sweet orange juice – it's so good! They also have a selection of craft beer from the region and delicious wine! We had the famous breakfast burrito, Pico, and pineapple salsa- it was delicious! Of course, You need to pair it with a coffee or juice!
The atmosphere is comfortable with good music and a stunning ambiance. The food was fresh and delicious.
The Somos Cafe is open from 8 am to 2 pm for brunch and 6 pm to 10 pm for dinner.
Related read: Check out the best restaurants in Nosara for my favorite brunch place in all of Costa Rica.
8. Eat Street – Best choices
Location: in front of Costa Riki Apartments, Santa Teresa
Price range: $4 – $20 USD per dish
Come here for: A quick meal with plenty of cuisine choices
Takes reservations: no
Eat Street is located strategically near surf rental shops in the center of town – perfect for a post-surf meal! It's the best place to relax or hang out with friends especially if everyone has different dietary requirements.
Eat Street is one of the few locations with a great selection of international and local food. Uniquely set up under a large roof with open spaces on each side, Eat Street is a food truck-style venue with 6 eateries in shipping containers. This means your group can choose to eat from whichever truck they want and you can all still sit together!
The smaller containers sell pastries and beverages like smoothie bowls and cocktails. The bigger containers have all kinds of lovely meals such as poke bowls, burritos, tacos, and burgers. They also have plenty of vegan options.
I love all the outdoor seating which is perfect for large or smaller groups. With well-spaced-out tables, you can make yourself a large group table or enjoy a more intimate dining experience. Then, everyone can go order their own food before it's delivered to your table.
Come here for brunch/ lunch with delicacies like monkey bowls, teriyaki and burrito bowls, French toast, but my favorite was the fish tacos. They serve delicious chilled iced coffees during the day and cold beer and cocktails at night.
Everything was super fresh and delicious. It's a pricey place considering the "food-court" style, but the food quality is worth it.
Eat Street is open from 7 am to 11 pm every day and you can view their menu here.
9. Manzu Restaurant – Best romantic beachside restaurant
Location: On Santa Teresa Beach
Price range: $30 to $40
Come here for: A beachside meal
Takes reservations: yes
Manzu Restaurant is a gorgeous beachside restaurant in Santa Teresa. You first see the stunning view sprawled across the expansive beach horizon. You can place your orders from the lounging hammocks on the beach or at a romantic table.
Daniel and the entire service team tirelessly helped us navigate the menu, looking for something exotic to try out.
Chef Peter's food is impressive. The balanced, fresh dishes on the menu and the harmonizing flavors were so good that we struggled to pick a favorite dish.
We ended up going with the steak and pappardelle pesto. both were amazing and perfect for a romantic candle-lit dinner on the beach.
For drinks, try the crazy colada and the spicy dragon fruit cocktail – so yummy! We couldn't get enough of these! The food, the service, the live music, and the atmosphere we experienced at this spot were incredible!
Manzu Restaurant is open from 7 am to 10 pm every day and you can view their menu here.
Hot Tip: Book a table during sunset to enjoy one the views of the ocean and sky!
10. Koji's Restaurant – Best Japanese
Location: Carmen Beach area of Santa Teresa
Price range: Around $15 USD for a Sushi Roll
Come here for: Japanese cuisine
Takes reservations: yes
Koji's is a gem for Japanese food in Santa Teresa. Forget all the other Japanese cuisine you've had and come to Koji's Restaurant.
The simplicity of it all baffles me. From the delicately folded spring rolls to the variety of tasty sushi rolls, you'll be spoilt for choice.
Everything is super fresh. Try the snapper Carpaccio, Hermosa roll, shrimp rolls in rice paper, tuna sashimi with scrumptious cashew cilantro dip, or the grilled octopus. Oh, and don't forget the authentic miso soup!
Every dish we tasted was impeccable. The service was super friendly, courteous, and helpful, especially with the menu and all of the unique choices. They customize their sushi rolls to your likeability, plus the variety of it all makes your dining experience worthwhile.
Koji, the owner and chef, is a charming and fantastic person. Visit the restaurant at sunset to catch the beautiful view while avoiding a crowd since the place packs to capacity after 8 pm.
It's a bit pricier than some alternatives, but it's worth every cent. Koji is definitely one of the best fine-dining restaurants in Santa Teresa.
Koji's Restaurant is currently open from 5:30 pm to 10:30 pm from Wednesday to Saturday and you can view their menu here.
11. Burger Rancho – Best Burger
Location: Main Street in front of the Selina North hostel, Santa Teresa
Price range: Around $12 USD for a burger
Come here for: Burgers
Takes reservations: yes
When you come to Burger Rancho, the first thing you'll notice is the beautiful atmosphere. The restaurant's design is very ranch meets the beach, with simple furnishings. The theme blends so well with the high roof and everything is made from wood – it's a lovely place to enjoy a meal.
As the name suggests, Burger Rancho is the best place to eat in Santa Teresa if you're craving a juicy burger. If you love spicy food you have to try the Chili Monster! It comes with spicy meat as well as a stuffed jalapeno. Bailey is a sucker for blue cheese so she always gets the BB Queen which comes with a beef patty stuffed with blue cheese!
For sides, try the Yuca sticks for a more traditional option or just stick with what you know and get the onion rings.
All the food comes in large portions, so order cautiously just in case it is too much. The food was super tasty, especially the fries, cooked to perfection and served with fresh salad.
This is no doubt one of the best places to eat in Santa Teresa. Overall excellent service, plenty of burger options, and a good selection of (cheap) beer – you'll be happy. We so enjoyed every bit of it!
Burger Rancho is open from 11 am to 10 pm every day and you can view their menu here.
Related Read: Visiting Santa Teresa and on a small budget? Check out the best free and cheap things to do in Santa Teresa!
12. Kapara – Best Falafel and Israeli food
Location: Cabinas Playa Hostel in Santa Teresa
Price range: Around $12 USD for a main dish
Come here for: Israeli, Moroccan, Middle Eastern, Mediterranean,
Takes reservations: yes
Kapara is a cozy restaurant located in a beautiful garden next to a small pool – you may want to carry your swimsuit for an after-meal dip in the pool. It is a lovely little place hidden in a hostel on Main Street in Santa Teresa.
It's warm, quiet, homely with simple décor- just like the Israeli owner, Sandra. She makes the tastiest couscous in Santa Teresa. It's so good that locals love dining at Kapara too. Enjoy some of the yummiest sabich, couscous, and hummus. They have amazing schnitzel which we had plus two bowls of couscous soup and healthy drinks.
The service was incredible, and we were treated with extreme kindness and professionalism. They all work so hard to keep guests well-fed and comfortable.
Enjoy the best Middle East cuisine in a unique and fun atmosphere. Excellent food, the people, the place. A must-try.
Kapara Restaurant is open from 10 am to 5 pm every day except Sunday and you can view their menu here.
13. Bali Beach Deli – Best smoothie bowls
Location: Plaza Royal, North of Super Costa
Price range: Around $10 for a meal
Come here for: Smoothis bowls and fresh colorful food
Takes reservations: no
Bali Beach Deli could be mistaken for a magazine setup. The interior décor is incredible! It looks like it was made for Pinterest or Insta. The Deli is not far off from the city and it's located in a modern building, the Plaza Royal, just a few meters from Supa Costa – you can't miss it.
Come here for refreshments and a sumptuous healthy breakfast. Everything is fresh – freshly squeezed, molded, blended, baked, or pan-fried. The aroma from the deli invites you from a distance. Bustling with energy and good vibes, the staff are always busy running around with large portions of food.
So buckle down and check in on an empty stomach.
First off, try the fantastic smoothie bowls. They're famous here and certainly the best in Santa Teresa. If you're more of a savory person, they have the best eggs benedict in town! Or, get something handheld such as a croissant or bacon sandwich. It's crunchy yet melts in your mouth. Too yummy to describe it.
Our favorite breakfast overall though was the açaí bowl – I wish you could get fresh açaí like that back home!
The owner, Sebastian is delightful, always happy, has a great story to share and and ever bubbly spewing positive energy around his guests.
What a way to begin your morning! In great company, good food, and a classic environment, so lovely.
Bali Beach Deli is open from 7:30 am to 3:30 pm every day except Sunday.
14. Las Piedras Parrilla – Best steak
Location: South Santa Teresa
Price range: Around $25 USD for a main
Come here for: Barbecue
Takes reservations: yes
Located in south Santa Teresa, this fantastic Argentinian restaurant combines local delicacies with Argentinian BBQ. Las Piedras Parrilla also serves other mains, including seafood, vegan dishes, a kiddies menu, creative desserts, and fresh cocktails. But the key highlight of the place is the open grill with steak, Argentinian style
Come here for large portions of meat grilled to perfection and made with passion. The staff is wonderfully fast and friendly, and you see the passion involved in their work.
Try the yummy starter, empanadas stuffed with either beef, chicken, or cheese. They're some of the best I've tried! You can choose from a mix of meats for your main course, including skirt steak, pork ribs, beef tenderloin, or tuna.
I can't go past a churrasco, which is an Argentinian-style steak. It reminded me of traveling through Patagonia as a young backpacker! All of the meat was cooked on an open fire, giving a distinctive charcoal-grilled flavor.
Overall, the restaurant does excellent steaks, impeccably seasoned, and well-cooked. We also liked their range of beer and wines, and we tried some Argentinian wine to wash down all the meat we had consumed.
The experience, the atmosphere, the ambiance, everything about this place was exotic. It's easily one of the best restaurants in Santa Teresa especially if you're a meat-lover!
Las Piedras Parrilla is open from 5 pm to 10 pm every day except Mondays and you can view their menu here.
15. Bajo El Arbol Tapas Bar – Best Tapas
Location: South Santa Teresa
Price range: Aroiund $12 USD for tapas and $25 for a main
Come here for: Tapas in a romantic setting
Takes reservations: yes
To get to Bajo El Arbol Tapas Bar, drive a little further out of the busy streets of Santa Teresa towards the North Malpais crossroad. This road with a beautifully lit pathway leads to the Tapas bar under a canopy of bright lights – just beautiful!
The restaurant sits in a scenic tropical garden. The owners, Mauro and Julio, have done an excellent job with the place and ensuring that you're well-fed and pampered. You can choose any meal from a selection of tasty tapas from the daily menu hanging on the wall, written on a chalkboard.
The day's special during our visit was a tapas menu served on large plates with plenty of fresh seafood caught that day, including grilled octopus and tuna-stuffed tomato in salsa verde with nuts!
We could see the chef carefully prepping each dish through the open plan kitchen. He meticulously worked like magic with the fish, veggies, and spices. Creatively slicing and dicing up his ingredients, and within thirty minutes, we had our food served on a large plate, nicely organized.
The soft, juicy, tender meat just melted in our mouths. We had a crème dessert which was out of this world, so good!
We'll come back to this romantic gem.
Bajo El Arbol Tapas Bar is open from 6:30 pm to 9:30 pm every day except Sunday.
4 Must-Do Activities in Santa Teresa, Costa Rica
Go surfing: I think I speak for most when I say surfing is arguably the number one thing to do in Santa Teresa. Surfing put Santa Teresa on the map and turned a once small village into a tourist mecca. This specific lesson is top-rated in Santa Teresa and comes with go pro photos/ video, your board rental, and a rash guard UPF 20+. It also has 43 five-star reviews, which means you know you'll get a good lesson.
Go fishing: The fishing off the coast of Santa Teresa is out of this world good! The ocean here is plentiful and the best part is, it's cheap! In Santa Teresa, you can go on this inshore fishing charter for only $250 USD for up to 6 people. That means with a full crew; it's just over $40 USD per person!
Visit Montezuma Waterfall: Montezuma Waterfalls is one of the only waterfalls in Costa Rica without an entrance fee. This makes it super unique, not to mention it is such a beautiful place to explore. Montezuma Waterfall is actually three waterfalls, and you can swim in some of the nicest pools if you do a little hiking first. It's a little confusing, so be sure to read our guide on the best things to do in Montezuma, which includes tons of info on finding the trail to the upper waterfalls.
Visit Cabo Blanco Nature Reserve: Reserva Natural Cabo Blanco is a very special place in Costa Rica. The nature reserve was created by Nicolas Wessberg (from Sweden) and Karen Mogensen (from Denmark) and was the first-ever protected area in Costa Rica – pretty cool, right?! Cabo Blanco is located a short drive or bus ride from Santa Teresa in the town of Cabuya. You can easily get there by public bus, or if you have an ATV, you can drive.
Pura Vida!
As you can see from the list above, Santa Teresa is one of the best culinary destinations in Costa Rica. It's filled with fantastic restaurants, top chefs, and fresh local ingredients. You certainly won't have trouble finding good food in Santa Teresa!
Thanks so much for reading. I hope this guide has got your taste buds excited and helped you pick some great places to eat in Santa Teresa. If it has, be sure to browse around and check out more of our blogs such as: