Nosara, Costa Rica has always been a cool surf town with chill, laid-back vibes. Nestled in a sleepy spot on the Nicoya Peninsula and bordered by unspoiled national parks and the sweeping Pacific Ocean, this quiet yet adventure-filled surfer town serves as the idyllic retreat from the daily grind of the 9 to 5 lifestyle we're used to.
While here, expect to encounter howler monkeys, world-class surfing all year round, an assortment of restaurants serving a wide selection of dishes, and a slew of trendy shops reflecting the town's hippie vibe.
Thanks to Nosara's popularity, it has turned into a home to many exquisite hotels, ranging in price from affordable to luxurious. So whether you're looking for a romantic getaway with your significant other or an opportunity to bond with your family, you will find lots of choices to fit your needs and budget.
The only problem when considering where to stay in Nosara is that the town is actually pretty big and super spread out, which is why choosing the right area to stay in is super important.
To make things easier for you, here's a breakdown of each area and my list of the best hotels in Nosara. Continue reading for more details about each one!
What are the Best Areas to Stay in Nosara, Costa Rica
If you pull up the map of Nosara on Google Maps (above) you'll see that the area of Nosara is very spread out. It is most easily broken up into North Playa Guiones, South Playa Guiones, Playa Pelada, and the remote hilltops of Nosara (on the far side of the highway further from the beach in the highlands).
You also have the center of town near the airport. But nobody really stays there since most people prefer somewhere near the beach or on the hilltops with ocean views.
If you're visiting the town without a car, staying in North Playa Guiones is your best bet. You won't have to drive anywhere here as everything is within walking distance, even the beach!
If you have a car, golf cart, or ATV, then you can stay wherever you want. Try South Playa Guiones where hotels are cheaper, Playa Pelada which is a quieter spot than Playa Guiones, and Nosara hilltops where stunning ocean views await you. Just be aware that you could be a decent distance from the beach or restaurants. Some accommodation can even be very remote in these areas.
Let me break it down for you even further below. As a bonus, I've also included the best hotels and holiday homes in each area for a range of travel budgets so you can decide exactly where to stay while reading our blog!
Staying at North Playa Guiones, Nosara
When thinking about where to stay in Nosara, the first thing that always comes to mind is North Playa Guiones. This bustling neighborhood is the most popular spot in town and my personal recommendation, especially if it's your first time visiting Nosara.
There is a wide range of lodging options here, as well as restaurants and attractions to fill your itinerary to the brim. This is also where the action is as it's super close to the beach, so expect crowds of surfers trying to hit the water.
Thanks to its location, though, you won't need to rent your own transport. Just walk anywhere you need to go!
Advantages to staying in North Playa Guiones:
Close to the beach, restaurants, and shops
Has a good vibe
Decent nightlife
Walking around is easy
Lots of beautiful Nosara hotels
Main tourist area
Disadvantages to staying in North Playa Guiones:
Hotels often book up fast
No ocean views from hotels
Tends to be loud and busy in some areas
Limited parking
No cheap hostels or budget hotels here at all
The beach is the busiest area
3 BEST Hotels in North Playa Guiones, Nosara
1. The Gilded Iguana – $$$
The Gilded Iguana is a classic beachside getaway that'll satisfy your Vitamin Sea craving. Known as Nosara's "original surfer spot", this luxury hotel has been accommodating surfers from all across the globe since 1988. This is thanks to its strategic location that puts you not only 200 meters from Playa Guiones but also just less than two miles from Playa Pelada. this hotel is also just around the corner from the downtown area of Nosara where you'll find an endless array of bars, restaurants, and stores.
Being that close to the sea, The Gilded Iguana's main draw is its full-service surf school. You don't need to be a pro to be able to join its programs as surfers of every age and skill level are welcome here. Learn from professional instructors, then take to the waves to test your skills with the surf gear you can easily get from the hotel's in-hour retail surf shop.
But catching the waves isn't the only thing you can do at The Gilded Iguana. Want to stay active while on vacation? Head to the Iguana Athletic Center, where you can join Brazilian Jiu-Jitsu classes, clear your mind with yoga sessions, or stay on top of your fitness goals at the fully equipped gym. Need a little pampering? Treat yourself to a relaxing Iguana Surfers Massage at the on-site spa while you take in the refreshing ambiance of the natural surroundings.
Spend the rest of your afternoon lazing around in the outdoor pool before grabbing your dinner at the hotel's à la carte restaurant. This on-site restaurant and bar is the perfect way to end your day as the food here is sure to impress! Make sure to try to catch-of-the-day, but don't sleep on the classic casados, too. If you're visiting on a Tuesday, make time for The Gilded Iguana's Taco Tuesday from 12 PM to 8 PM, where you'll get drool-worthy tacos for only $1!
When you finally retreat to your room, you'll be treated to more of the hotel's little luxuries. Your room features artisanal, handmade details and custom-made furniture that scream tropical in every way. You'll also have separate storage for your surfboard. If you want a complete experience, get the room with an outdoor shower and living space, where you can stargaze and connect better with the wildlife surrounding you.
At The Gilded Iguana, you have four accommodation types to choose from: Surf Rooms costing from $188 USD, Premium Rooms from $247, Premium Plus Rooms for $272, and the ultimate Surfer Suite from $289 per night.
You can check availability and book the Gilded Iguana online here!
2. The Gardens Hotel – $$$
Sitting a mere five-minute walk from the Playa Guiones, The Gardens Hotel provides you with everything you need and more for a relaxing beachside vacation where you won't need to lift a finger!
As soon as you step into this boutique eco-friendly hotel, you will be welcomed with the staff's warm smiles and a complimentary drink. However, things do not end there. A quick tour of the property will bring you to a large saltwater lap pool, one of the largest out of all of the hotels in Nosara. Enjoy a quick dip here without worrying about sunburns as the pool is shaded by towering palm trees. Right next to the pool is a rancho packed with lounge chairs and hammocks, where you can curl up with a good book.
If you're up for an adventure, simply ask the front desk for a bicycle that you can use to explore the nearby areas for free! Of course, there are plenty of things to do nearby, too. Grab your surfboards and hit the waves or join the hotel's turtle tour – one of the best things to do in Nosara.
Back at the property, fill your tummy with delicious farm-to-table dishes at the on-site restaurant, El Local. This restaurant and brewpub not only serves the best organic meals but also treats you to craft beers and kombucha on tap, from midday to dinner. The grass-fed burgers and tuna sashimi served here are legendary, so don't skip out on those. You can catch special musical events at El Local on Thursdays and Saturdays, too, including visiting DJs and local live music.
Finally, end your day with a moonlit walk back to your room. The Gardens Hotel comes with 11 cozy bungalows and suites tucked away in the tropical garden to give you the ultimate privacy. You'll have your own outdoor area here, complete with seating and hammocks where you can laze around and watch the howler monkeys passing by overhead. Other amenities you can find in your room include a fridge and coffee service.
Your stay at The Gardens Hotel already includes an organic breakfast, complimentary use of bikes, and welcome drinks. For double occupancy, Bungalows start at $195 to $220 USD, Deluxe Rooms for $240, and Suites for $340. There is a $20 charge per extra guest. Up to two children (i.e. up to 8 years old) stay free in the parents' room.
You can check availability and book The Gardens Hotel online here!
3. The Nomadic Hotel – $$
Want to spend every minute of your Nosara vacation hitting the waves, clearing your mind with yoga, and basking in the sun on the sand? Then, you cannot get any better than what The Nomadic Hotel has to offer. This cozy hotel sits just five minutes away on foot from the beach and puts you in the heart of all the beach activities and watersports, making it the best location for both solo travelers and families wanting to get the full Costa Rican experience.
Your room is pretty minimalistic, with locally farmed teak wood beds, air conditioning, and Wi-Fi. If you're vacationing here with a loved one, feel free to book The Nest, a well-appointed apartment complete with a kitchen and living space. Here, you'll have a private balcony to enjoy the refreshing sea breeze and stargaze at night.
On the other hand, if you're in Nosara on a solo trip and want to meet new surfing buddies, the bunk room is where you want to be. This sleeps a total of eight people but can still be pretty cozy.
Outside of your room, you'll have access to more of The Nomadic Hotel's amenities. Start your day with a healthy breakfast at the communal area, where you can chit-chat with other guests about their plans for the day. Feel free to spend your day relaxing on the rooftop terrace, too, or join the open-air yoga classes offered by the hotel. There's also a saltwater pool on the premises, a quick walk away from the on-site bar that serves refreshing cocktails.
At The Nomadic Hotel, you have 12 rooms to pick from, with the Bunk Room starting at $100 per night and The Nest costing $363 for a minimum of two nights. Breakfast is already included in the rates.
You can check availability and book The Nomadic Hotel online here!
Staying in South Playa Guiones, Nosara
It's important to note that Playa Guiones is HUGE and actually stretches all the way to Playa Garza. For the purpose of this blog, I will refer to "South Playa Guiones" as the central area of the beach, which is a popular area to stay in Nosara. Any further south than these hotels is more in the Playa Garza area, which is not necessarily "Nosara."
Compared to the North, South Playa Guiones is more laid back, having more residential areas and a relaxed atmosphere ideal for those seeking a more intimate vacation. The hotels here are less expensive, too, but there's a downside to that. They can be quite a bit of a walk from North Playa Guiones (about 20 minutes or so), so it's best if you have transportation or don't mind walking and hiring a tuk-tuk at times. North Playa Guiones is where you'll find the majority of restaurants and shops.
South Playa Guiones also has restaurants and stores dotting the area, but they're somewhat spread out. This means you may need to head to the North if you're looking for something trendier and fancier.
Advantages of staying in South Playa Guiones:
Close to the beach
Has good surfing waves here
Less busy than North Playa Guiones, but still within walking distance
Much cheaper than North Playa Guiones with even a nice budget hostel available
Disadvantages of staying in South Playa Guiones:
Far walk (15-20 minutes) from the central North Playa Guiones area, where you can find trendy restaurants
Not a ton of hotels to choose from
Lacks atmosphere as most hotels and amenities are fairly spread out
Best to have your own transport (a golf cart will do) if you stay here
3 BEST Hotels in South Playa Guiones, Nosara
1. Olas Verdes Hotel – $$$
One of the best hotels in Nosara, particularly in South Playa Guiones, Olas Verdes Hotel is exactly where you need to stay to experience Costa Rica at its finest. You can find this small boutique hotel amidst the natural beauty of Ostional-Nosara Wildlife Refuge, roughly a mile away from Pelada Beach.
Being an all-suite hotel, Olas Verdes offers you the little luxuries of life right in the comfort of your room. When you walk into your suite, the first thing you'll notice is the décor. Authentic crafts from various regions of Costa Rica adorn the entirety of the room to immerse you in the tropical vibes of the country. You'll also have standard amenities like air conditioning, wardrobe, mini-fridge, coffee maker, and private bathroom. On top of that, there's a small terrace attached to your room, where you can enjoy the view of the pool and garden.
In terms of the hotel itself, Olas Verdes' onsite amenities will not disappoint. From your room, you're only a few steps away from the outdoor pool shaded by the towering trees in the garden. Grab your yoga mat and practice your downward dog on the sun terrace, or chill by the bar, where you can grab some refreshing cocktails. Get a taste of Nosara's culture by taking a spin around the town in one of the hotel's rental ATVs.
Of course, the quiet beach of South Playa Guiones is only steps away.
When it's time to dine, head back to the hotel's in-house El Manglar Restaurant which is one of the best restaurants in Nosara. Here, they serve the ultimate Costa Rican and fusion cuisine. Get a taste of some of the seafood dishes, freshly made with ingredients caught by the local fisherfolks. The fruit smoothies are a must-try, too!
Accommodations here are divided into Poolside Suite (starts at $135 USD), Luxury Suite (starts at $195), or Beach Apartment (starts at $420). Daily breakfast is included in the rates, with nine choices available. You can also use the bikes and boogies for free (subject to availability). If you're coming in directly from Nosara Airport, a courtesy RT transfer can be included in the rate but with a minimum of 24-hour notice.
You can check availability and book Olas Verde Hotel online here!
2. Green Sanctuary Hotel – $$
Green Sanctuary Hotel is one of the most unique Nosara hotels, primarily because it is built entirely with shipping containers! But you wouldn't really notice at first look since it blends pretty well with its lush tropical garden.
The hotel is a bit of a walk from Playa Guiones (about 10 minutes). Still, what I like about staying here is that you'll feel like you're miles away from civilization when in reality, you're actually just a 15-minute drive to Nosara Airport! This means you get the best of both worlds here: peace and privacy without having to sacrifice comfort.
The distance between the hotel and the beach doesn't keep you from enjoying Playa Guiones, though. Just approach the concierge, and they can happily assist you with booking quad tours around the Guanacaste area and fishing tours across Nosara's waters. If you feel like exploring on your own, bikes, cars, and quads are available at the hotel for rent.
Once you head back to the hotel, indulge yourself in a relaxing Champi massage at the on-site wellness center or dip in the outdoor pool to escape Costa Rica's heat. There's also a snack bar on the property in case you want to munch on some treats while taking in the scenery on the terrace.
The best part? Pets are allowed here with no extra charge, so feel free to bring your furry buddy on your Nosara adventure!
When it comes to the rooms, you'll enjoy the basic amenities like air conditioning, safe, mini-fridge, mini-bar, and private bathroom. My favorite feature is the private terrace, where you can watch the local birds fly across the lush garden.
Rates here for the Double Room start at $110 USD per night and $130 per night for the Triple Room. It's honestly one of the cheapest hotels in Nosara.
You can check availability and book Green Sanctuary Hotel online here!
3. Nosara Beach Hostel – $
Traveling on a budget but still want to stay somewhere cozy and clean? Nosara Beach Hostel has your back. Pretty much the ONLY budget backpacker accommodation in all of Nosara, this hostel gives you the best value for your money. Staying here means you're only a quick five-minute walk to Playa Guiones' incredible waves but still be surrounded by the sounds of local wildlife roaming around.
What I love about this hostel is that it's pretty airy and open. You can lounge on the breezy wrap-around patio all day long while you take in the beauty of the garden in front of you. Kick back and relax on the hammock or play a round of ping pong with your new buddies. There's also a common area on the property, where you can meet other guests, stay on top of your favorite TV show, or pass the time with some board games.
The rooms at Nosara Beach Hostel come in dorm styles, so expect to share the space with other guests. But unlike other hostels, the rooms here have private bathrooms apart from the common area bathrooms on the property. I also like that despite having dorm-style designs, the rooms are not stuffy and are actually spacious and airy. You won't be able to prep meals in the room, but there's a fully equipped shared kitchen on the premises you can use.
There are five shared rooms on the property, with bed rates starting at $23 USD per night.
You can check availability and book Nosara Beach Hostel online here!
Staying in Playa Pelada
Playa Pelada, just north of the well-known Playa Guiones, is quickly becoming the next hot spot. This sheltered half moon bay is home to calmer waves perfect for surfing and swimming and a thriving ex-pat population with many "full-time residents."
Despite its growing community of long-time visitors, there are still plenty of great places to stay in the area. In fact, you can find a plethora of up-and-coming hotels here, which are only a quick walk away from the beach. Some are even within walking distance from the North Playa Guiones area (via trails through the forest).
The prices here are also relatively cheaper than those in Playa Guiones, thanks in part to its quieter ambiance, smaller range of activities, and fewer fancy shops and restaurants. So if you're deciding on where to stay in Nosara on a budget, there is no better location than Playa Pelada.
Advantages to staying in Playa Pelada:
Nice beach nearby
Not too far from North Playa Guiones
Not as busy as Playa Guiones
Cheaper rooms than those in Playa Guiones
Disadvantages of staying in Playa Pelada:
May need your own transport to travel to the town if you don't like to walk
Not many choices for places to eat or things to do
Limited options for hotels
3 BEST Hotels in Playa Pelada, Nosara
1. Nosara Beach Hotel – $$$
The Nosara Beach Hotel is not only one of the best hotels in Nosara for families but it is also recognized as one of the very first hotels in town. In fact, it has been accommodating foreigners and locals since its establishment in 1977.
From the coastline of Playa Pelada, you can immediately see the hotel's whimsical architecture that resembles a bishop chess piece (but I like to think of it as a castle!). This structure really stands out and makes for an awesome backdrop for your Instagram photos.
Thanks to the hotel's proximity to the beach (a mere 100 yards away), you're super close to all the water activities you may have dreamed of doing in Nosara. Spend hours surfing the waves, horseback riding, beachcombing, and sports fishing. If you're one of those who hate doing DIY itineraries, the hotel's concierge can arrange various tours for you too, from snorkeling to ATV rides.
For those days when you don't feel like going out, you can always just chill in the oversized outdoor pool or watch the sunset on the terrace. There's a billiard on-site, as well, if you're up for a friendly match.
But beyond the hotel's aesthetic buildings and world-class amenities, what really made me fall in love with Nosara Beach Hotel is the dining experience it offers. Feast on Mediterranean dishes in the open-air La Taverna Restaurant while you take in the panoramic view of the Pacific from your beachfront table.
If you think that's already their main draw, wait until you learn that they have a second restaurant right on the beach! La Luna is probably one of the best locations in town. Not only can you dig into local cuisines here but you'll also get to do so while digging your feet under the warm sand and enjoying the refreshing sea breeze.
After getting your fill of the sumptuous meal, retreat to your air-conditioned room that comes complete with a patio overlooking the garden or the beach, a minibar, and Costa Rican organic toiletries. On a honeymoon? Make sure to snatch the Pelada Beachfront Pool Suite, where you have access to your very own plunge pool! Talk about ultimate luxury!
Double occupancy rates here start at $170 USD for the Pelada Beachfront Suite and $260 for the Pelada Beachfront Pool Suite.
You can check availability and book Nosara Beach Hotel online here!
2. Hotel Boutique Lagarta Lodge – $$$
Want to truly immerse yourself in nature while on vacation in Nosara? Then there's nothing better than staying at Hotel Boutique Lagarta Lodge. This stunning beachfront property is among the best eco-lodges in Costa Rica. It's tucked away between two rivers on the hotel-owned 90-acre nature reserve, giving you that sense of exclusivity and luxury blended into one property.
But what does staying in Lagarta Lodge truly means for you?
Well, for starters, you're just steps away from the sprawling flora and fauna of the hotel's Reserva Biológica. Take nature excursions here and get to know more about Costa Rica's natural resources. Being close to the Rio Nosara and Rio Montaña also means easy access to boat tours! Glide through the waters as you take in the beauty of the mangrove forests and the wildlife living there.
Too lazy to go exploring? You can always just chill in the jacuzzi or one of the two infinity pools set on the well-kept gardens of the property. The hotel's open-air Gecko Lounge is also open to cure your boredom. Grab the drink of choice here and walk around the small art exhibition showcasing a collection from the Maleku tribe. Did I mention that the lounge overlooks the ocean too?
For a more breathtaking view of the sunset, climb the on-site Tower Mirador, where more of the sea awaits you. A quick walk from the tower will take you to Spa Vista Manglares, where you can get pampered with a relaxing massage while enjoying the sound of the surrounding forest. There are yoga decks and rooms on the property, too, if you want to culminate your inner peace.
Finally, don't forget to drop by the Chirriboca Restaurant to dig into the best Costa Rican delights while taking in the panoramic ocean views. If this isn't romantic enough for you, you can always ask for a more intimate setting in the hotel's very private wine cellar.
When you get to your room, you'll be treated to more of Nosara's lush foliage. From your private balcony, enjoy the view of the garden, forest, and ocean and a fresh cup of coffee courtesy of your en-suite coffee maker. The rooms' interiors are worth noting, too, having been tastefully decorated with stylish teak furniture and nature-inspired art.
At Hotel Boutique Lagarta Lodge, you have four room categories to choose from: the Jungle Suites overlooking the jungle, the Panorama Suites opening up to the ocean, the Flor Blanca Suites featuring both the ocean and its lush surroundings, and the Motmot Suites offering breathtaking views at the resort's highest point. Rates range from $249 to $461 per night.
You can check availability and book Hotel Boutique Lagarta Lodge online here!
3. Che Nosara (Adult's Only) – $$
Looking for Nosara hotels near the beach but hate being around rowdy kids? Then Che Nosara is just what you need. This adults-only boutique hotel is tucked away in a lively jungle just 15 minutes on foot from the beach.
This means you're just a quick walk away from world-class surfing on Playa Pelada! Of course, no one's stopping you from snorkeling, kayaking, and offshore fishing here, too. You can even use one of the bikes at the hotel to explore the rest of Nosara.
But apart from easy access to the beach activities, there are plenty of things to do right on Che Nosara's premises, too. Take a dip in the outdoor pool, join a morning yoga or pilates private session at the open-air rooftop terrace, and request a private massage right in the comfort of your suite.
On top of these amenities, Che Nosara features an on-site Costa Rican rancho called White Rabbit Lounge. A hidden oasis tastefully appointed with elegant furniture and rustic details, this lounge serves signature drinks named after the characters of "Alice in Wonderland." Be sure to try the handcrafted premium cocktails as well as the Costa Rican craft beer.
For your room, expect nothing but ultimate privacy and convenience. All rooms come complete with free Wi-Fi, air conditioning, and a refrigerator, but if you want something a little more luxurious, book the spacious fully equipped kitchen suites or the luxury king suites with a private outdoor seating area overlooking the hotel grounds.
It costs $165 USD to $185 per night for the Standard Suite at Che Nosara, $200 per night for the Luxury King Suite for a minimum of two nights, and $255 per night for the Superior King Suite for a minimum of three nights. Rates are inclusive of breakfast.
You can check availability and book Che Nosara online here!
Staying in the Hilltops around Nosara
On the far side of the highway away from the beach and up on the hills are some of the best hotels in Nosara. These accommodation providers are not really the cheapest ones you can find in town, but the amazing views they offer are definitely worth the splurge.
When compared to the other areas in Nosara, only a handful of hotels are found in the hilltops. This is because it isn't really within walking distance to the beach or the town, making it a very quiet location with fewer visitors.
Advantages to staying in the hills around Nosara:
Stunning views from most hotels
Very quiet area
Has some very unique luxurious hotels or a once-in-a-lifetime stay
Chance to see more wildlife
Peaceful setting among nature
Disadvantages of staying in the hills around Nosara:
Far from the beach
Quite a ways from restaurants and shops
Dull vibe
No cheap places to stay
Need your own transport to get around
3 BEST Nosara Hotels in the Hilltops
1. Tierra Magnifica Boutique Hotel – $$$
Tierra Magnifica Boutique Hotel is the definition of an idyllic oceanside getaway in Nosara. Sure, this intimate boutique hotel may not be as close to the beach as you want, but its commanding views of the Pacific and the surrounding mountains make up for its considerable distance from the coast.
As soon as you step into the property, you will be welcomed with nothing but hospitality and luxury. Take a sip of the natural fruit drink as you check-in at the open-plan lobby before heading to your room.
Once you get to your room, you'll discover more of Tierra Magnifica's little luxury touches. The decor here blends with the outdoors as custom-designed wooden furniture adorns the entire room. The space is also very airy and can comfortably accommodate you and your family or friends.
If that isn't enough to get you hooked, wait until you see your very own balcony or porch. These furnished outdoor spaces face either the mountains or the ocean, so you can enjoy the glorious views even from your bedroom. Depending on your room type, other amenities include a wet bar, writing desk, dining table, and ocean-view shower.
Outside your suite, you will find the hotel's main restaurant, Huacas, where a unique dining experience awaits you. Try their special Pad Thai Shrimp for lunch, then grab a glass of Costa Rican Coffee Martini at the bar. The best part about dining here is that you will not only enjoy the food and drinks but you'll also get to savor the ocean backdrop.
From the restaurant, get yourself pampered with local raw honey facials at the on-site spa overlooking the beach or join the daily group yoga classes in the open-air, ocean-view yoga pavilion. If you prefer somewhere intimate, the hotel's private meditation deck is just down the waterfall nature trail.
The rooms Tierra Magnifica are categorized into Vista Suite, Master Suite, Vista Room, and Brisa Room, with rates starting at $310 to $815. Guests staying at the hotel are given complimentary access to The Gilded Iguana's Beach Club.
You can check availability and book Tierra Magnifica Boutique Hotel online here!
2. Nosara Satori Bubbles – $$$
Located a mere 12-minute walk from the beach, Nosara Satori Bubbles has taken luxurious accommodations to a whole new level. This adults-only property treats you to an intimate and private experience, where you can immerse yourself in the beauty of nature without having to give up modern conveniences.
Instead of staying inside standard hotel rooms, you will be given access to your own private piece of lot set inside Satori's 13,000 m2 property. Inside the lot is the cozy "bubble" room (more like a solarium) containing your bed and the bathtub. Of course, the bubble is fitted with modern amenities like Wi-Fi, air conditioning, and a coffee maker filled with Costa Rican coffee for your convenience. Just imagine yourself laying inside your little bubble while gazing at the shimmering stars at night.
But apart from what you can find inside the bubble, you will surely fall in love with the amenities inside your lot, too. Steps away from your bed is a private pool adorned with Balinese tiles, an outdoor ranch, and an outdoor bathroom for your use only.
For the ultimate luxury experience, stay at the premium suite. This suite offers a more spacious area and a fireplace outside, where you can cuddle and watch the stars before going to bed. Did I mention that there's a bubble tub, too?
The best part is that you can enjoy a continental breakfast right in the comfort of your bubble.
Rates are $290 to $370 per night, inclusive of breakfast.
You can check availability and book Nosara Satori Bubbles online here!
3. Selina – $$
Selina is one of the most budget-friendly Nosara hotels you can find between Playa Guiones and Playa Pelada. It just opened in 2017 but its picture-perfect views and social events have already been the talk of the community, attracting flocks of guests from across the region. This makes Selina the perfect base if you're looking to meet new yoga or surf buddies.
But it isn't just the cheap rates that I love about this property; it's also the fact that you don't need to venture far to enjoy your vacation. Right on the premises, enjoy a sumptuous breakfast at the on-site Mediterranean restaurant to boost your energy before joining the free daily wellness class.
Afterward, take a quick stroll through the Chorotega trail leading to Playa Nosara and Playa Pelada, where more activities abound. Practice your bottom turn with Selina's group surf class and head to one of the best places to see turtles in Costa Rica at the Ostional National Wildlife Refuge (you might even see baby turtles!).
Back at Selina, enjoy the rest of your afternoon chilling in the hammock garden, finishing up your report in the comfy cowork space, or sleeping in your spacious room. When it's time for dinner, you won't have to head to town to eat as you can just prep your own meal in the shared kitchen.
Private rooms at Selina Nosara are available for $113 USD to $232 per night, while beds in the community rooms (dorms) range from $25 to $36 per night. If you're a solo female traveler, you might want to check out the six-bed female community room. Your stay at the hotel already includes a daily à la carte breakfast.
You can check availability and book Selina Nosara online on Booking.com or Hostelworld!
Getting Around Costa Rica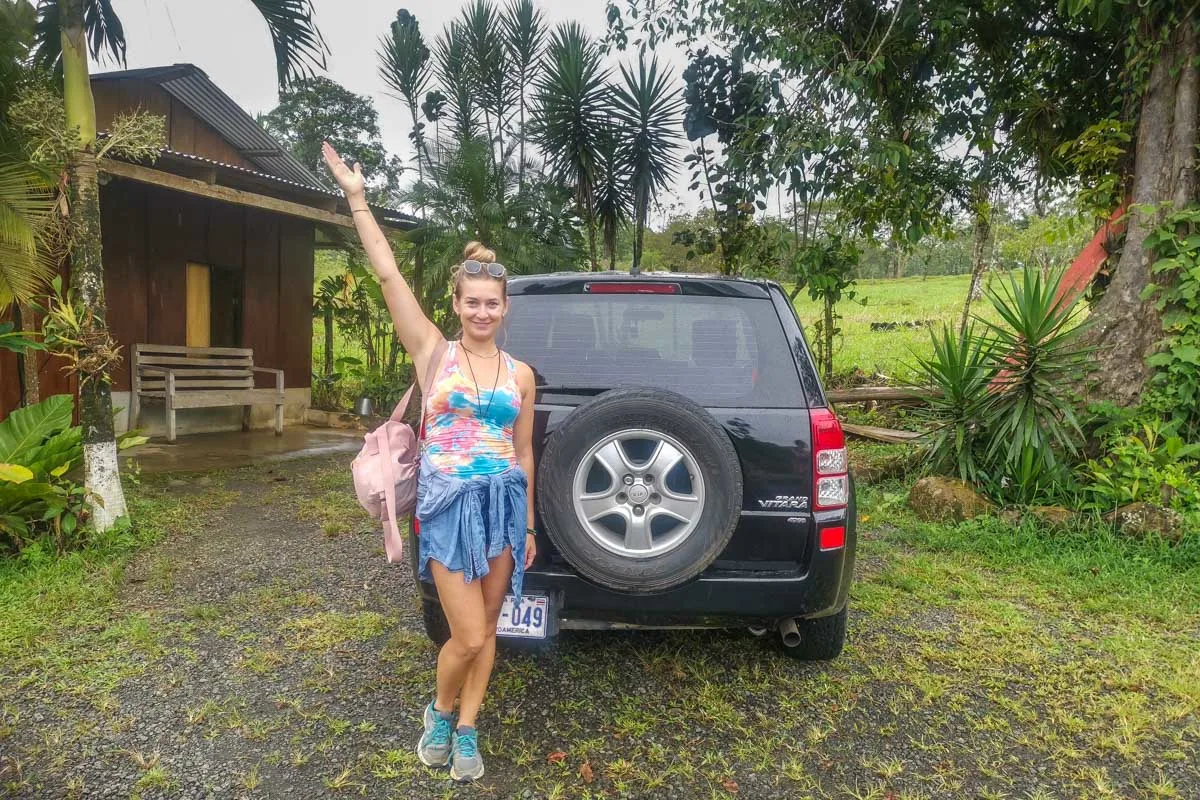 How you choose to get around Costa Rica is one of the biggest decisions you'll make when planning your holiday here! How you do it depends on your budget, travel style, and comfort level.
Renting a Car
Without a doubt, the number one way to explore Costa Rica is in a rental car. We book rental cars on the Discover Cars website as we have had good experiences with them in the past.
One of the things you need to watch for when renting a car in Costa Rica is the mandatory insurance that the government requires you to have. There are a lot of very cheap rentals that don't include this mandatory insurance (TPL) in the original booking price, but there are also ones that do. To avoid additional surprise charges when you pick up your rental car, be sure to rent a car that includes the mandatory insurance when you book.
Thankfully, on Discover Cars it's easy to tell apart the companies that include the mandatory insurance and those that don't. The trick is you can't pick any car on their website. In the picture below, you can see this rental car, with pick up in Jaco, includes the TPL. That means the mandatory insurance is included in the price. Any cover you get above that is extra.
Of course, I still suggest getting the full coverage offered by Discover Cars, which covers you even more.
You can browse cars on Discover Cars here.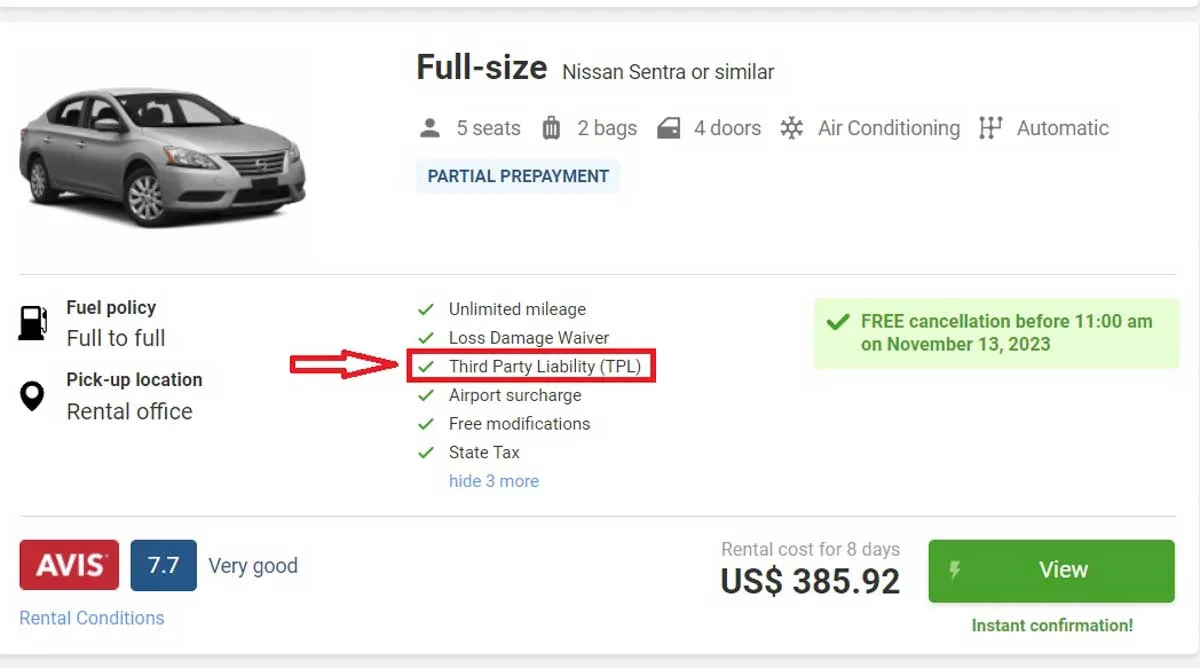 Book Shuttles
If renting a car isn't in your budget, you don't feel comfortable driving in Costa Rica, or you just don't like driving, shuttles are the next best option. There are hundreds of shuttle routes available all over the country, and they are very affordable.
Shuttles in Costa Rica are specifically for tourists and often include pick up and drop off at your selected hotels and airports. The drivers also speak some English, and the vehicles have air conditioning. You'll also be guaranteed a seat when you book a shuttle (which isn't the case with the public bus system.)
To get the best price, use the website Bookaway. They compare all the offers and prices of shuttle companies in Costa Rica so you get the best price! Honestly, we have saved so much money using Bookaway!
You can search for shuttles online on Bookaway here.
Public Bus
Lastly, you can use the public bus system. On short journeys, such as from San Jose to La Fortuna or Uvita to Manuel Antonio, this system is great. However, the longer the journey the more hassle and time spent on a bus. It's undoubtedly best to save the public bus in Costa Rica for short and straightforward trips!
The public buses are definitely the cheapest way to get around Costa Rica, but they are not always very reliable and schedules often change without notice and delays are to be expected. The buses can also be very crowded and hot – so just be prepared!
It's also good to speak some Spanish if you plan on riding the public bus since most drivers and ticket booth operators don't speak English.
Invest in Travel Insurance
Paying out of pocket for trip interruptions or medical treatment will add to what might already be a stressful situation. Not to worry, SafetyWing is here to help!
This affordable travel and medical insurance is perfect for digital nomads, long-term travelers, and remote workers. The best part is that it only costs $45 USD per 4 weeks.
To start coverage you must purchase it after leaving your home country. We usually purchase it as soon as we land at the airport.
Since using SafetyWing we've been reimbursed thousands of dollars when we've gotten sick. During the pandemic, they've even gone as far as to pay for our last-minute flights back to Canada before the border closed!
Pura Vida!
With so much to see and do around town, it's best to base yourself somewhere that aligns with your vacation bucket list. Take your time deciding where you really want to stay in Nosara, so you can make the most out of the idyllic surroundings.
Hopefully, the places I've included in this guide are enough to point you in the right direction and make it easier for you to pick a hotel, whether you are on a limited budget or have dozens of dollars to spend.
If you found this blog helpful, be sure to check out some of our other related blogs including:
Guide to Visiting Nosara, Costa Rica